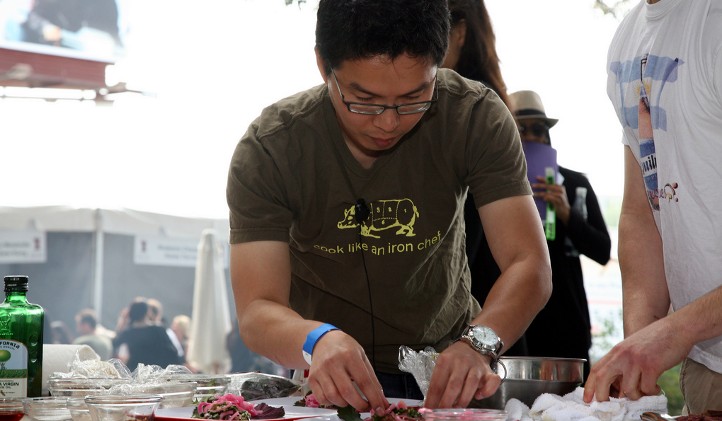 We're certainly lucky to live in a food-centric town. While other spots make a big to-do over a visiting celebrity chef, we count many of those famous culinary artists as neighbors and the friendly people who run our favorite go-to hangouts.
Which means that when one of the country's biggest and biggest-of-heart events lands in Los Angeles, those superstars of the grills and ovens come out to lend support, meet fans, and, yep, do some mondo, flavor-packed cooking.
The event we're referring here to is Taste of the Nation, a fundraiser that aims to end childhood hunger. Period. Share Our Strength, the organization behind the event, hosts Tastes across the country, and next up is Los Angeles on Sunday, June 10.
Well, make that West Hollywood. The Lot off Formosa will be filled with hobnobbing diners as well as gals and guys in chefs' whites and toques. They'll be the ones bending over grills and tables while constructing interesting tacos and desserts and sliders and such.
A general admission ticket ahead of the date is $110. At the door? That's $135. "Space is very limited" for parking, too, so you may want to look into purchasing that before June 10.
If you'd like to donate to Share Our Strength without attending, you certainly can do so. It truly does much to tie chefs and communities to a cause that impacts millions of kids. For more on the group's charity events, like the Great American Bake Sale, read on.
Follow NBCLA for the latest LA news, events and entertainment: iPhone/iPad App | Facebook; | Twitter; | Google+; | Instagram; | RSS; | Text Alerts | Email Alerts
Copyright FREEL - NBC Local Media