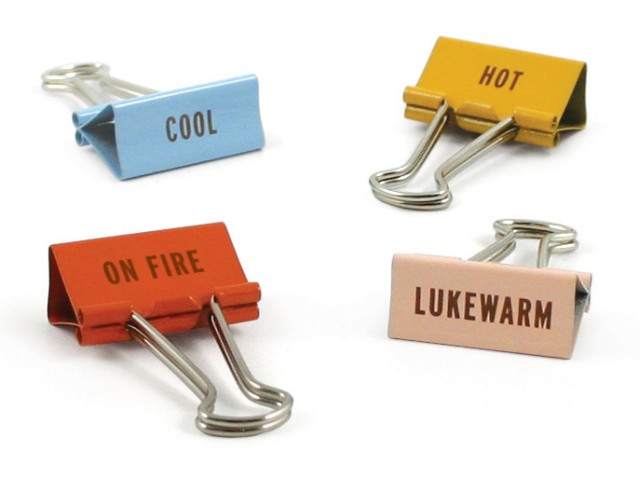 KNOCK KNOCK TEMPERATURE TASK CLIPS: Because we like to smile, if not whistle, while we work. Because these truly do break up those ubiquitous piles of paper into manageable other piles of paper. A suggestion: Be sure that the "On Fire" clip is holding together your hand-outs as you stride into your next meeting. $9.50 at Knock Knock
WAREHOUSE SALES: The Barneys spectacular continues at its new location, the LA Convention Center; Plastic Island has dresses for $20 and under during its August 14th-15th extravaganza; the huginormous traveling Warehouse Sale lands at the Fairplex for August 15th-16th (20,000+ items are promised, with brand names all over the place).
ONNA EHRLICH BAGS: Handbag maven (and Art Center grad) Onna Ehrlich just became a mom, and to celebrate, and to give her fans an excellent deal, she's offering 30-percent off at her online store. To get the deal, just enter "mother" for the coupon code when placing your order. The "Francoise" is so oh-la-la...
END OF SUMMER SIDEWALK SALE: Look for those trousers that really don't ride up, or the shirt to go with them, on August 15th and August 16th. That's when Waterside in Marina del Rey is throwing a mondo sidewalk sale. Looks like there will be a lot of summery things with discounted prices, which is good; after all, we live where summer peeks in, now and then, all year long.
LAVENDER FLOWER SYRUP: Purple and pretty and made for brightening up the ho-hum beverage. Frenchy Bee suggests adding it to tea -- mais oui -- but also milkshakes, which intrigues. The lavender milkshake? How could we have never thought to make one before now? Le Pere Pelletier Lavender Flower Syrup at Frenchy Bee. $16.99
Copyright FREEL - NBC Local Media