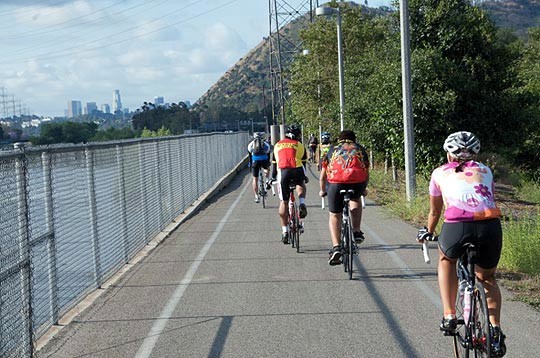 Biking 100 miles along the Los Angeles River is exactly the epic tribute our epic tributary deserves. And that's exactly what several riders will be doing on Sunday, June 6.
But if 100 miles sounds a wee bit daunting, the LA River Ride, which turns 10 in 2010, offers shorter jaunts, too. Like a 70-miler. And a Half Century, which is 50 miles (no surprise). There's also a 36-mile training ride, and a 15-mile course for families and younger cyclists.
Of course, the routes don't stick strictly to the river -- everything begins and ends at the Autry National Center in Griffith Park, and there are a few zigzags and offshoots, like through downtown.
That said, the LA River Ride is a fine way to be close to a channel most Angelenos spend far too little time getting to know. And when you're not out riding and river-admiring, you'll be listening to music and eating at an international food faire.
The Los Angeles County Bike Coalition is behind the annual ride. Money raised from the day will help fund a bicycle pathway that stretches from Long Beach to the Valley. Talk about epic.
Copyright FREEL - NBC Local Media