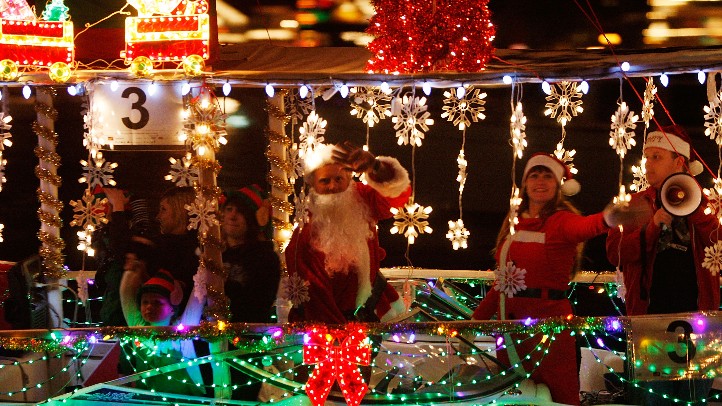 FIVE NIGHTS: Unless it is on stage, or on an ice rink, the deal with most holiday events is that they're for a single night or possibly two. It just takes a lot of oomph and energy and time and, yep, cash, to keep something going over the better part of a week. Especially a thing that can be watched for free. Especially a thing that involves millions of lights and water-going vessels. But when that thing -- okay, let's name names here -- when something like the Newport Beach Christmas Boat Parade has been around for over a century, five nights feels right. When anything has been around for 103 years, multiple nights is the way to go. Because a lot of people, after seeing it mentioned on national news, want to grab some dock to watch the proceedings.
2011 DATES: The kick-off -- or dock push-off, rather -- is on Wednesday, Dec. 14. The final night is Sunday, Dec. 18 (and there will be fireworks on that night, note). Bet the weekend nights'll be well attended, so we'd personally aim for Thursday (but, c'mon, this is one of the world's most famous boat parades; there will be a lot of observers on each night). There are narrated harbor tours, if you want to go that route, or you can just eye the pdf to see where the boats will be (and then try and get shore-close to where that is). Can we also just repeat the catchphrase of the year? "Feelin' Christmas-Sea in Newport Beach!" Oh yeah.
VIEWING GUIDE: Here's everything you need to know to watch it all. The organizers say some boaters spend upwards of $50K on their yuletide decor. Can you spot which ones? They're all pretty impressive.
Copyright FREEL - NBC Local Media