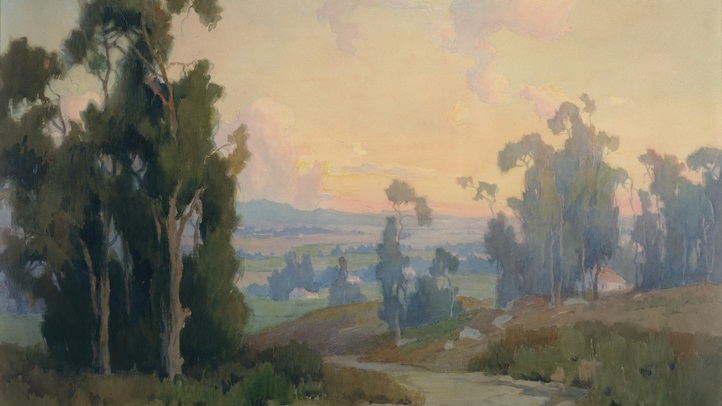 EN PLEIN AIR: Artists have been walking their canvases and easels into the woods and to the shoreline for centuries, particularly the 19th century, when putting brush to surface under the sun was quite in vogue. (See: The Impressionists.) But the French-born style of en plein air, or in the open air, found fresh new life in the Golden State. It isn't difficult to guess why: The Golden State lives up to its name in opportunities to pursue art outdoors and certainly in natural beauty, too. Now plein air happenings are fairly common, especially in areas like the beaches and Central Coast. Ventura holds a popular gathering each year, where dozens of artists take to the streets to plein-air-it-up over a long and inspiration-filled weekend. In short, it remains a current pursuit, vital to our state and a beautiful way to appreciate Southern California scenery within a gallery or museum, when the painting is later displayed. The Pasadena Museum of California Art and the Santa Museum of Art are furthering this appreciation, in a partnership devoted to the beauty of our state's big plein air moment, as well as the Regionalist movement.
TWO EXHIBITS: "Early modern paintings that celebrate the topography of California" are on display at the Santa Barbara Museum of Art now through Sunday, June 16. The show will look at approaches such as tonalism, which burst onto the scene from San Francisco, and other factors that made this style popular early in the 20th century. And opening on March 10 at the Pasadena Museum of California Art? "California Scene Paintings from 1930-1960." These are from the Regionalist movement, so they possess a slightly different feel than the earlier plein-air works; people and structures dominate, rather than natural features. Seeing both shows, back to back, one now, one in March, or perhaps in the same week, gives a powerful look at how artists viewed our state as seen in the sunshine (and through the prism of the beauty-loving artist's mind).
image: Marion Kavanaugh Wachtel, Eucalyptus Trees, n.d. Watercolor. Santa Barbara Museum of Art, Gift of Mr. and Mrs. E. Avery McCarthy.
Copyright FREEL - NBC Local Media