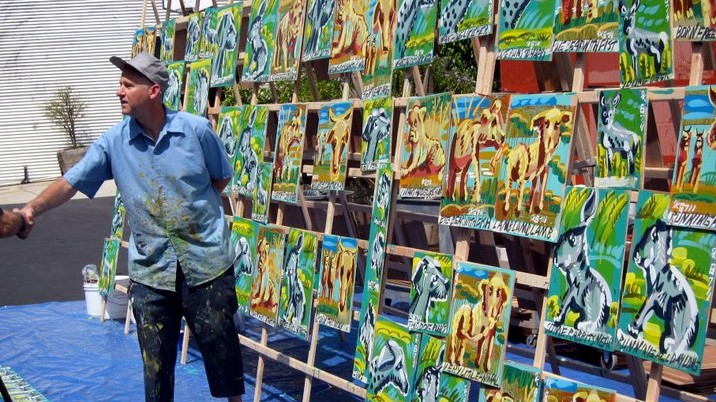 Art exhibits leave different impressions on people, but some shows remain crystal clear in the mind.
Perhaps you visited the Santa Monica Museum of Art in 2000 during the Stephen Keene show. If you did, you likely remember that the artist painted over 10,000 paintings during the exhibit, which was called Miracle Half Mile. Now the artist has returned, just over a decade later, to pay homage to that memorable time and raise some funds for the institutions programs in the process.
How's he doing this? By painting, of course, and a lot. He started on Sunday, Aug. 7 and will be working through Saturday, Aug. 13. Each day Mr. Keene will work with a new theme -- outer space, flowers, animals -- and each day he'll turn out dozens upon dozens of paintings, one after the other.
You can watch him work, and you can buy; the pieces are priced from $10 to $25 dollars. Come on; you could fill up a full wall at that price. Make quite the statement.
We like what the artist himself has to say about the push. "At the Santa Monica Museum of Art, everyone is a collector. It's art, it's cheap, and it changes your life."
Well put. We just wonder what Mr. Keene intends to do a decade from now. We're sure it'll be impressive, and affordable, and it will once again attract more than a few eyes.
Copyright FREEL - NBC Local Media