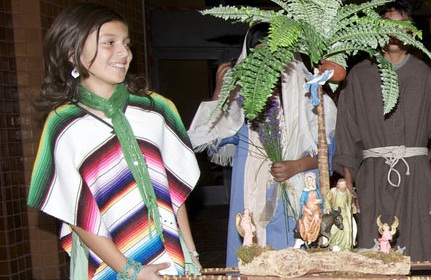 Many people would say that traditions are most important at the holidays, specifically those celebrations that remain nearly constant regardless of where and when they're observed. It's the constant part that connects us and brings meaning to the moment.
Las Posadas is certain a beautiful and long-running example of just that. The song-filled procession detailing the Mary and Joseph's search for an inn is reenacted in towns throughout Mexico and the Southwest each December. Many of the events happen on Christmas Eve itself, but more and more Las Posadas fill the weeks leading up to the holiday.
There are many places to join the candlelit walk around Southern California -- Olvera Street famously throws a multi-night celebration, complete with warm drinks and old-fashioned treats -- but the kids in your family can get a closer look on Sunday, Dec. 16 at the Autry National Center in Griffith Park.
Grandeza Mexicana Folk Ballet, Harmonies Girls Choir, and more performers are set to join the song-filled festivity. And it is truly a festivity on the move, as all Las Posadas gatherings are; the walk will journey throughout the museum.
Hot chocolate and Mexican sweet bread will also be served.
Your Autry admission gets you in.
The Western Heritage Family Day is that same day as well. The spotlight? The holidays, of course. Consider it two convivial get-togethers under one cultural roof.
Copyright FREEL - NBC Local Media