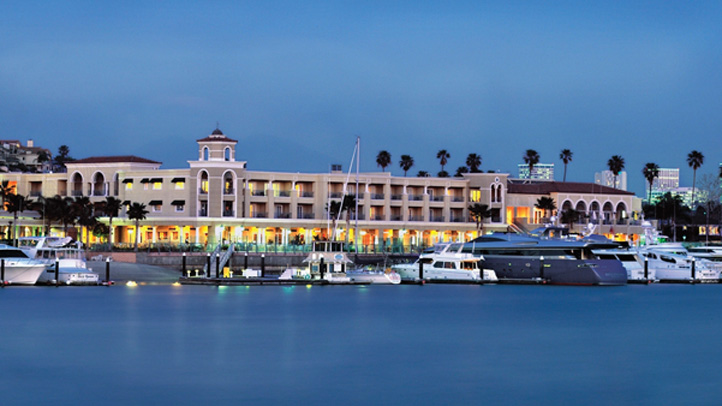 This article is sponsored by The Balboa Bay Club & Resort, a 15-acre, four-diamond property and Newport Beach's only waterfront resort. To learn more about the destination's unparalleled services and amenities, visit Balboabayclub.com.

With its waterfront location, luxury appointed rooms, array of heated swimming pools and elegant social scene, Newport Beach's Balboa Bay Club & Resort is a favorite weekend getaway among Los Angeles residents looking for a little respite from city life.

Now, the exclusive, Mediterranean-inspired resort is jazzing up its weekend entertainment options with a summer concert series that is open to the public.

Kicking off Friday, July 27, the series welcomes club members and the public alike. For $25 you can enjoy live music al fresco on the sprawling property's expansive Lawn, plus enjoy cocktails and an a la carte buffet of summertime barbecue staples.

From folk rock legends to Grammy Award nominated Mariachi bands, the diverse lineup has something for everyone. Let's take a closer look at which Friday night concert might be best for you.

July 27
We Five's Folk-Rock Revival Concert
Folk rock pioneers We Five--whose 1965 single "You Were On My Mind" climbed to number four on the Billboard charts (just a slot behind The Rolling Stones' "Satisfaction")--take the stage for a mellow evening of harmonic vocals, acoustic guitars, rock sensibilities and even a bit of jazz.

August 3
The Four Freshman Live In Concert
A local favorite that sells out year after year, The Four Freshman are back for a gentlemanly evening of vocal harmonies and jazz arrangements. Nominated for six Grammy Awards during their long career, the current quartet continues the band's illustrious tradition of barbershop-style singing.

August 17
The Four Preps
Another evening of timeless tunes, expect the The Four Preps to entertain with doo-wop ditties, tin pan alley classics and even a bit of comedy. With three gold records to their credit, not to mention appearances on Ozzie and Harriet and Gidget, the quartet still doesn't miss a bit, especially with original lead crooner Bruce Belland back in the band.

August 24
Surfin' Safari, The Ultimate Tribute To The Beach Boys
Ever wish you could travel back in time to catch The Beach Boys in their prime? Well, you don't have to thanks to Surfin' Safari's faithful recreation. The incomparable harmonies, the crashing back beat of Dennis Wilson's drums, the surf guitar of Carl Wilson and the genius of Brian Wilson's music are all here.

August 31
Mariachi Sol de Mexico
Widely considered the nation's premier Mariachi ensemble, band leader Jose Hernandez and his bandmates make music that reflects Mexico's rich cultural heritage. Expect a spectacular live show from the Grammy Award nominated group, as well as south of the border favorites served at the Mexican buffet dinner.

Dinner begins at 5:30 p.m. for each concert, followed by a 6:30 p.m. performance. All concerts are expected to sell out quickly, so make reservations soon by calling 949-630-4120.

And for more information on The Balboa Bay Club & Resort, the perfect place for a weekend escape, visit Balboabayclub.com.