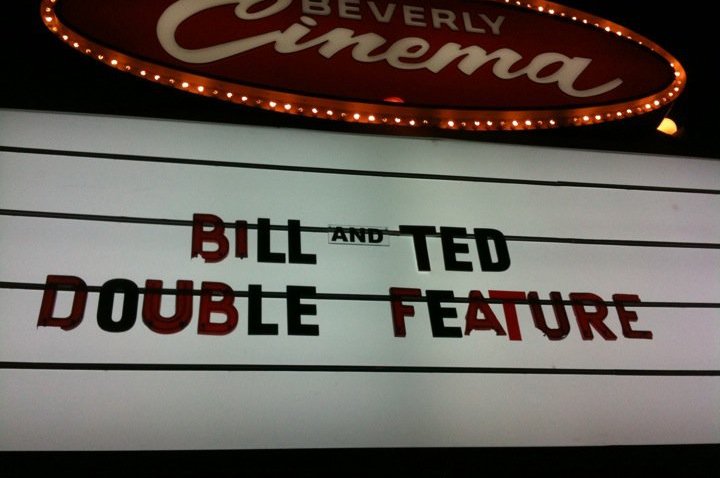 Are there, like, way more things to like about Bill & Ted than just, like, two less than a dozen?
Oh, for sure. But since the New Beverly will be screening both "Bill & Ted's Excellent Adventure" and "Bill & Ted's Bogus Journey" in a matter of hours -- that would be on Monday, Aug. 30 at 7:30 p.m. -- we'll get this list launched.
1. You don't have to say the full movie titles for people to know who or what you're talking about. Just "Bill & Ted" will suffice. There've been many, many movie-character pairings over the decades; only a few can stand alone. These gents make the cut.
2. Alex Winter -- Bill S. Preston, Esq. -- and writer Ed Solomon will be at the New Beverly on Aug. 30, talking about the films.
3. Alex Winter is on Twitter. Follow. (If Bill and Ted had time-traveled ahead from 1989 to 2010 and seen Twitter, we suppose they would have instantly viewed it as a righteous way to promote Wyld Stallyns, right?)
4. Wyld Stallyns. Why can't more bands replace their random vowels with the letter "y"?
5. Helloooo, San Dimas! You say that when visiting the community, too? A must.
6. Jane Wiedlin as Joan of Arc. She's also on Twitter. Follow.
7. The whole butterfly effect? The be-careful-not-to-change-even-the-smallest-part-of-history plot point that most other time travel movies usually take into consideration? Yeah. Not so much.
8. The man-child movie phenomenon of the last decade owes much to these two late-'80s teenagers. Much.
9. Ted's vests. When will the casual vest make a comeback? It's time.
10. So-crates.
Copyright FREEL - NBC Local Media