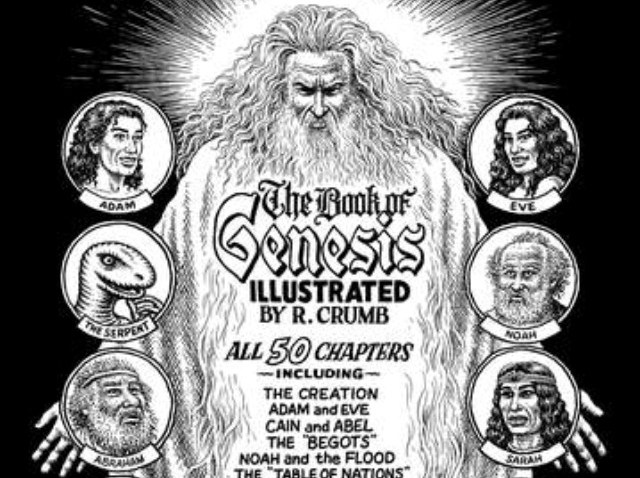 R. Crumb, founder of the underground comix movement and subject of the controversial 1994 documentary "Crumb", is widely known for his critical and satirical view of the American mainstream. Criticized over the years for being overly sexual, violent and racist, Crumb's most well-known and subversive creations include Mr. Natural, Fritz the Cat, and Devil Girl.
Crumb's latest endeavor, which he spent a full five years toiling over, is a complete adaptation of the most well-known book in the Bible. The project consists of 207 black and white drawings, each with 6-8 separate panels, depicting the entire book of Genesis. It includes every single word from all fifty chapters.
Crumb and the Bible, you say? We paused, too. The idea of it is irresistible in its improbability.
Crumb fans will be pleased to know that the book is annotated with explanations of his reactions to the chapters, and the cover comes with a warning: "Adult Supervision Recommended for Minors."
Crumb's new twist on the classic tome applies his signature style of balancing the darker side of humanity with a wry sense of humor.

So where can you see it? Head over to the Hammer Museum this weekend to experience the project in its entirety.
Amen.