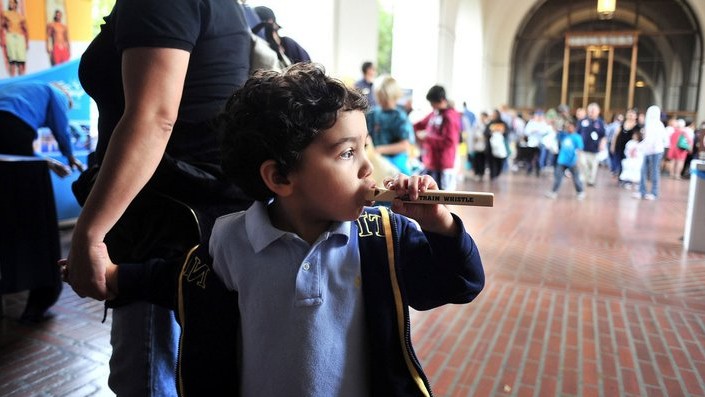 How fortunate are we rail-loving Angelenos? Very, is the one and only correct answer.
Because while trains run all over this big country, National Train Day takes place in four cities which happen to boast four legendary train stations. Can you guess them? New York, Philadelphia, and Chicago are indeed on the list, plus a certain Spanish Deco gem representing for the entire west. Yep. Our own Union Station.
Let's pause to mention that the Saturday, May 12 event will also spread to railroad museums and such in other states, which is nifty. We just wanted to get braggy about the LA landmark.
And that landmark will be teeming with train fans on that date, all wanting to celebrate La Vida Rails. Kid events and model trains and insider talks and peeps inside private cars are on the schedule. Oh, did we mention this is free? Freer than a cup of coffee in any dining car? It's that free.
The best part of the day is the kids with their conductors caps and blocky train whistles. We've heard young'uns tend to take a shine to trains, which should gladden any heart in this mega-pixel, screen-dominated age.
Hours are 11 a.m. to 4 p.m. And if you only go to enjoy the vaulted splendor of Union Station, that's enough. But, of course, we can do that any day of the week. How lucky we are.
For more out-on-the-road fun, check out the Rio Grande Scenic Railroad, the Skunk Train of Fort Bragg, and SoCal's own Fillmore & Western Railway.
Follow NBCLA for the latest LA news, events and entertainment: iPhone/iPad App | Facebook; | Twitter; | Google+; | Instagram; | RSS; | Text Alerts | Email Alerts
Copyright FREEL - NBC Local Media