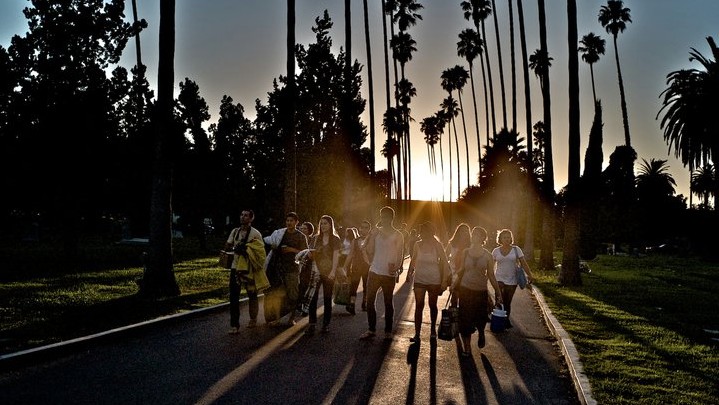 Los Angeles has a good many movie theaters -- hmm, would that have to do with our movie-making-capital-of-the-universe? Probably -- but no theater only shows flicks from dusk to dawn. Which is a pity. We think it would do big business. If not gangbusters, you can bet it would achieve a solid cult following of night owls. We'd also recommend pricing the popcorn at two bucks and providing a dozen different free, butter-based toppings.
Please.
With all that in mind, we take notice when a local theater or happening broadcasts the fact that it will be running movies all night long. Sometimes you're invited to show in your PJS, sometimes there's a breakfast at the end, and sometimes it is all going down in a cemetery.
Which it will be on Saturday, Aug. 13. Or make that Saturday, Aug. 13 and Sunday, Aug. 14. Cinespia at Hollywood Forever will be running the filmage from 9 p.m. through 6 a.m. That's eight hours of movie-watching, for those of you without watch calculators. "Monterey Pop" will screen, and psychedelic treats that fit that era's particular flair.
Psychedelia, at 3:39 a.m., at Hollywood Forever? There's no answer to that question. We just wanted to type that.
Dusk is one of our favorite moments at the cemetery; the palms and the aura and the air. We're already jealous of anyone who will be there to watch the sun rise. Surely it will be as atmospheric, with rays of light streaming through the trees. Well, streaming from the other side of the world.
Donation tickets are ten bucks, and parking is ten bucks. We'd layer up, too, August or not.
Copyright FREEL - NBC Local Media