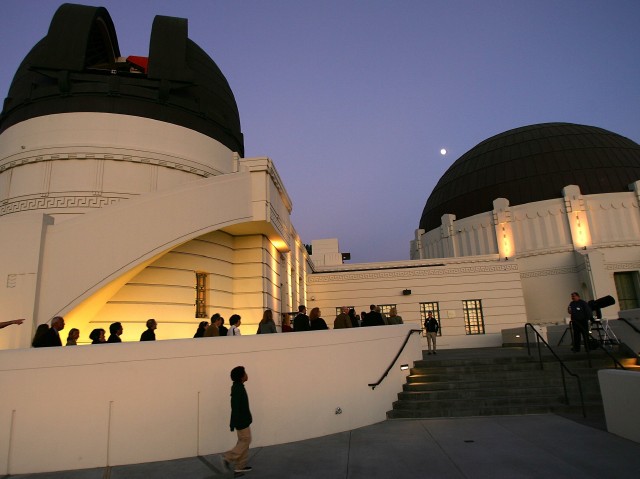 Seen the Milky Way from your house lately? Probably not, if your place is located in Los Angeles or one of region's countless other urban enclaves.
Most nights we're fortunate to get a glimpse of Venus and a few weaker stars. It's the trade-off of city living; the dark sky can sometimes seem positively twinkle-free.
But, of course, we long for the stars; we'll call it a human trait and leave it at that. Which makes scheduling nights where we can venture deep into the heavens not simply a pleasure, but a necessity.
Enter the Griffith Observatory Star Party, a 12-time-a-year happening that just happens to be totally free. Amateur astronomers set up telescopes and point them at fascinating objects that are very far. You think it takes a long time to get from Marina del Rey to Valencia? These objects are further.
The next one is up on Saturday, Jan. 28, and, delightfully, it starts while the sun is still high. But it lasts well into the evening; 9:45 p.m. is the pack-up-the-'scopes time.
Plus, the view from the observatory? You've likely enjoyed it in the daylight hours. But at night? It's positively cinematic. No wonder the movies visit it often for glamorous establishing shots.
Two last things to say. One, thank you, amateur astronomers. You do know so much about what's bigger than all of us. Props. And two, thank you, Griffith Observatory. Just seeing you placidly keeping watch over Los Feliz calms and cheers the weary urbanite. It's a reminder that it truly isn't all about us, and that larger matters lie beyond our earthly edges.
Follow NBCLA for the latest LA news, events and entertainment: Twitter: @NBCLA // Facebook: NBCLA
Copyright FREEL - NBC Local Media