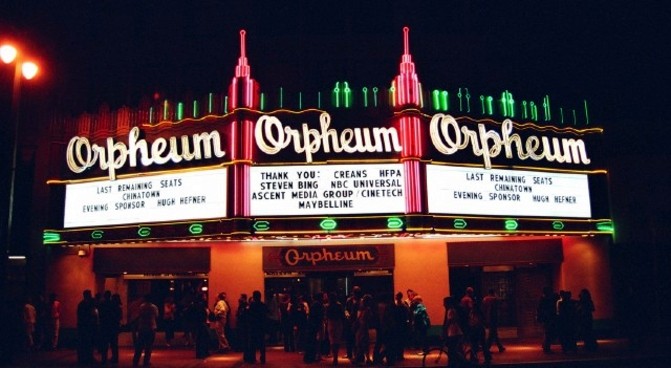 When the very first people were getting a few movies together to show in the famous movie palaces of downtown Los Angeles, we wonder if they knew that their up-and-coming movie festival would make it to its quarter century mark.
But "make it" is a bit of an understatement. Last Remaining Seats, the annual summertime screening celebration presented by LA Conservancy, not only thrives but continues to shine a searchlight on the lavish theaters of Broadway. "Tickets are selling faster than ever this year," says the group, and two of the six nights are already sold out. Yep, "Sunset Boulevard" went fast, but that was expected. So did "Rear Window," the opening night film. Grace Kelly, in Jimmy Stewart's apartment, being all twirly in chiffon? Sold. Out.
Several juicy films remain, including "Captain Blood" at the Million Dollar. And that's soon, on June 8. "Zoot Suit" should be pretty amazing, too; that's the June 22 movie, and it is also at Million Dollar.
Each evening's program has a bit of something extra, like spunky Wurlitzer music or a hello-and-good-evening from a film person. Leonard Maltin hosts the "Rear Window" night on Wednesday, May 25.
The whole kit 'n kaboodle wraps on June 29 with "Safety Last!" at the Orpheum. This film only put downtown on the movie map, and it definitely did a lot for people in glasses and boaters comically dangling from oversized clocks.
Copyright FREEL - NBC Local Media