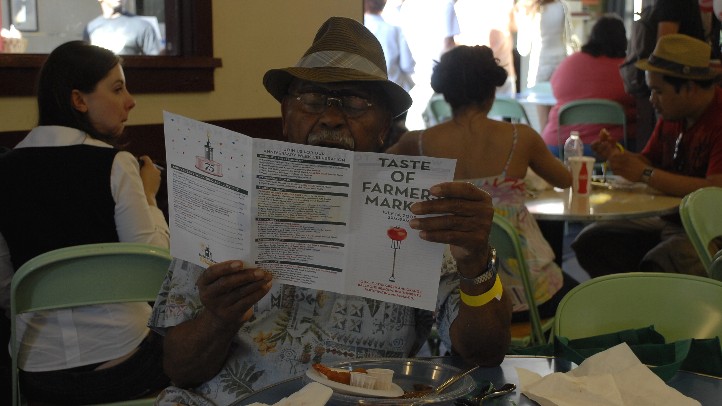 "Meet Me at Third & Fairfax" may be the celebrated slogan of the Original Farmers Market, but that phrase tends to change up a bit during the landmark's annual Taste of Farmers Market.
"Meet me at the table in front of Bob's Donuts" and "I'll see you buy the windchime place after I go get my sliders" and "Meet us in like ten minutes by the middle bar" tend to be heard more often than the venue's famous phrase. That's because the try-a-little-of-everything event has groups of friends moving about the market, snacking at different stops, and negotiating various reunion points after various sampling runs have wrapped.
Yeah. It's a good night.
Taste of Farmers Market is set for Tuesday, July 12, and tickets are now on sale. Swing by the Market office and nab a few, because these go fast. Fast like a plate of Huntington Meat-made sliders go fast. So? Fast x 10.
Even if you're not a slider fan, bet you'll find something else. There will be about 50 different stalls and market vendors offering tidbits of what they do and make best.
A dine-only ticket is $35; buy a ticket for $45 and get two beer or wine tickets.
It's the third Taste of Farmers Market, but the icon of hanging-out-ness turns 77 in July. Which means probably millions of people have taken heed of that "Meet Me at Third & Fairfax" suggestion over the years. Which is fantastic. Fantastic x 10.
Copyright FREEL - NBC Local Media