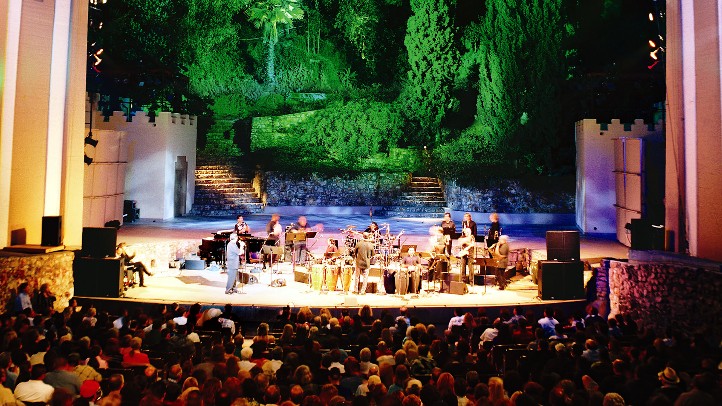 It is certainly one of the prettiest and the oldest of all of our city's performing arts venues. And that it is located snug between the Valley and Hollywood on the Cahuenga Pass? All the better. People from both sides of the hill can and do attend regularly.
We're talking about the historic Ford Amphitheatre, which, at 92 years old, is looking rather swell. But it is due for several updates and improvements, meaning that the stage will shutter in October after its summer season wraps. Does this mean that the wintertime [Inside] the Ford season will be pre-empted? It does indeed; due to the renovations, the theater will remain dark for several months.
So, what does a beautiful theater that's weathered the better part of a century need? The floor of the venue will be resurfaced and sealed. As you might imagine, its nestled-in-the-hills location and water leakage can go hand-in-hand. The stage will also be "reconfigured" for "better drainage."
It isn't all about the H2O, though; lighting and sound will be updated as well.
"Capital projects funds" are lending the seven-and-a-half million dollars needed for the multi-month renovation.
But if you're a Ford regular, you know that this latest update is a continuation of projects that have been ongoing for the last few years. "Aging power and water lines" have been replaced and new picnic tables added near the entrance.
The amphitheatre has long been home to many LA theater and dance troupes; we're happy to see that while the immediate future holds fewer shows, its long-range forecast is bright. What's planned for the centennial in 2020, we wonder?
Follow NBCLA for the latest LA news, events and entertainment: iPhone/iPad App | Facebook; | Twitter; | Google+; | Instagram; | RSS; | Text Alerts | Email Alerts
Copyright FREEL - NBC Local Media