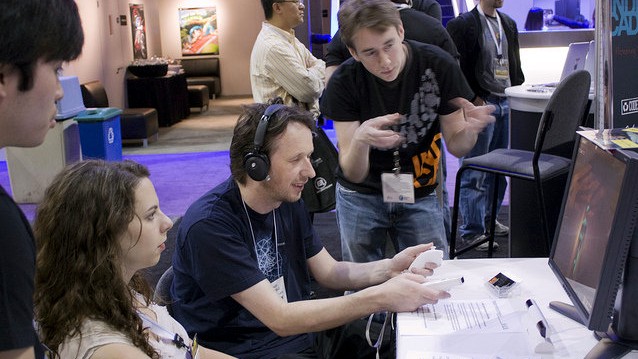 What did we all do before Sundance?
We're not simply saying there wasn't a major destination for independent film, but there was no instantly recognizable way to describe something as being indie, cool, and cutting-edge.
Thank goodness, then, that we can now say "the Sundance of dot dot dot." And one such dot dot dot is arriving in downtown Culver City from Thursday, Oct. 4 through Sunday, Oct. 7. It's Indiecade, which is often referred to as the Sundance of the independent gaming world.
Meaning? Lots of designers and programmers will be in Culver try out new stuff'll be on the ground, chatting up players and people willing to try their hands at playing something maybe only a handful of other players have tried.
Saturday, Oct. 6 is the big come-one-come-all festival -- kids are invited, too -- but it won't be just about testing out fresh games. "Family friendly workshops" are part of the day, and the topics include how to make games out of junk and chalk and how to create board games, too.
There'll also be some arcade love in the mix, which is right and good in our books; after all, the original Flynn's Arcade from the first "TRON" was at 9543 Culver Boulevard (or at least that was the location).
It's an easy mix, the Indiecade Festival, of designers and thinkers and people willing to push a few envelopes -- or, er, joysticks -- on a billion dollar industry. And central to that easy mix? The fans, who come out to play and chat and learn how to make a game or two of their own.
A festival ticket, at the door, is twenty bucks, but there are family packs, too.
Follow NBCLA for the latest LA news, events and entertainment: iPhone/iPad App | Facebook; | Twitter; | Google+; | Instagram; | RSS; | Text Alerts | Email Alerts
Copyright FREEL - NBC Local Media