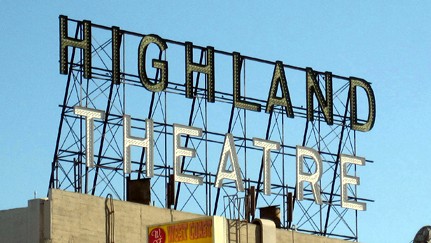 The rooftop sign? No way does LA own the concept, but we certainly have a number of vintage rooftop signs still standing, though many are nowhere near the shape they were in 70 or 80 years ago.
But community groups can often counteract that particular march of time. Take Highland Park. Several local businesses and individuals have pitched in to purchase bulbs for the 1924 Highland Theatre rooftop sign, a sign that is described as "the largest, tallest, most visible rooftop sign along Highland Park's Figueroa Street."
Now those neighborhood-nice groups and people will get to see the filament-based fruits of their efforts, when the 502 bulbs get glowing at 7 p.m. on Tuesday, May 17.
We're going to file this one under "pre-spectacular" and "sure to be moving."
And the North Figueroa Association has no intention of stopping with the theater. Next up? The Manning's Coffee Store will once again be illuminated at night.
You can donate to the group's efforts, even if you can't attend. And you can take heart that not every not-working thing in our city goes away. Often there are people fighting to save it, bulb-by-bulb. Gives one a glow inside, actually.
Copyright FREEL - NBC Local Media