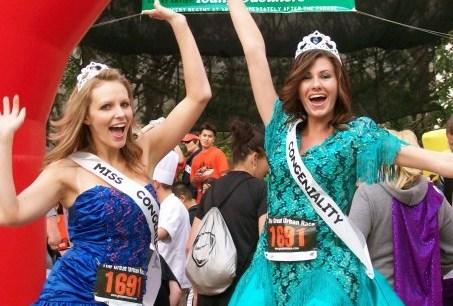 The people who get into scavenger hunts and clue-driven run-around-towns really, really get into them.
You know these people. You love them. You are them. And you likely know that the Great Urban Race, that traveling-the-country team challenge is making for Los Angeles on Saturday, March 20.
In short: There are teams. Those teams are given clues. In an envelope. And then, off everyone goes, with an eye on victory.
And each other. And the wacky costumes that have become a staple of the GUR.
Everything is going down around downtown and West Hollywood. Two things to say here. If you're out, and you see a multitude of Great Racers, look not at them but the people who are looking at them but have no idea what is going down. There is a sort of happy befuddlement on the out-of-the-loop'd faces.
And two. We're wondering if any Great Race participants are also doing the LA Marathon the next day. If so, hats off to you. And don't get your outfits mixed up.
Top prize is $300; there's also a prize for Best Costume.
Copyright FREEL - NBC Local Media