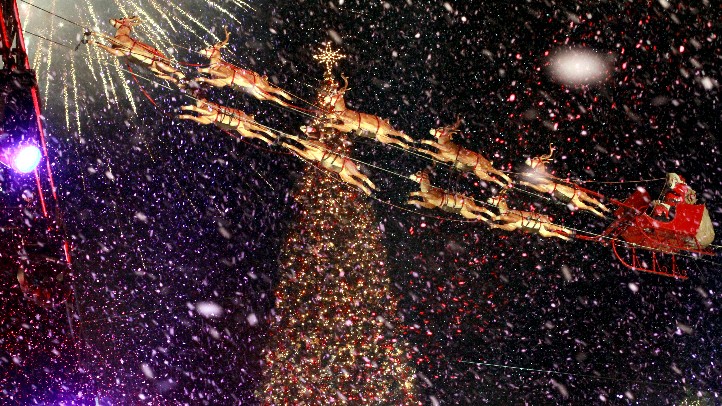 We've said it before, or at least a version of it: The Sunday before the Sunday before Thanksgiving is the new Friday after Thanksgiving.
Used to be, back in the day (back in the day = 1993-ish) tree lightings and grand carolings and gingerbread village unveilings happened the Friday evening after the national turkey holiday had wrapped. But the issue with that, of course, is that relatives visiting town sometimes had to leave on or before Friday, thus missing the festivities.
Enter The Grove, which has addressed that issue. The center-of-town shopping destination now lights its giant fir on the early side of November.
This year that date is Sunday, Nov. 11, which is way ahead of all of those visiting Thanksgiving relatives (we assume and hope). Time is 7:30 p.m., but get there much, much earlier. Admission? Free.
If you know the swankified shopping center, you know the celebration will once again be out-sized. Michael Bolton, the Backstreet Boys, Colbie Caillat, and Melanie Fiona will all perform. Santa Claus will make a Santa-Claus-y entrance. Fireworks will burst and that famous snow will drift upon turned-to-the-sky smartphones. Oh, and yep: That massive, 100-foot-tall tree will be aglow.
By the way, we say that "famous snow" even though a few places do faux snowfalls now. The Grove set the tradition in snow -- or, er, soap -- years ago, becoming a venue much associated with the tradition. So cheers, Grove, on that.
And: Cheers on marking a decade this year. The little kids entranced by your dancing waters back in 2002 are now returning to the nearby movie theater on dates. Oh, time. You and your passing.
Copyright FREEL - NBC Local Media