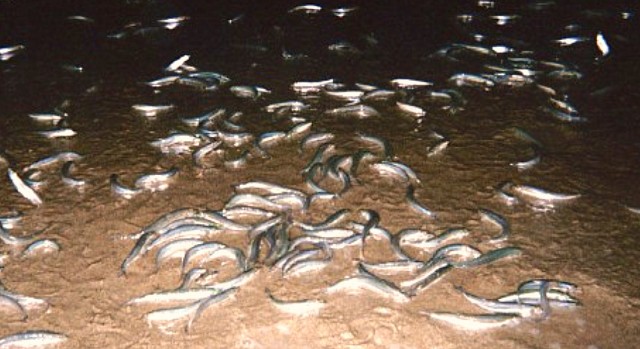 Those little grunion are so thoughtful.
The famous fishes are kicking off their nighttime shimmy-ashores on a Saturday night, which makes it a bit easier for people who work during the week to get out and enjoy their beach-based show.
Of course, we jest; the grunion are not wriggling onto land to delight humanity; they're following moon phases, tides, natural instinct, and a pattern they've followed for thousands of years, all with one matter on their minds: making more grunion. So it is just lucky chance for us humans that the first night of grunion sightings will fall on Saturday, March 10.
Cabrillo Marine Aquarium will hold its always popular "Meet the Grunion" program on that night and a few others; the evening includes a talk and a walk down to the beach to spy some grunion action.
If you know your silversides fish, you know they only show in certain spots around Southern California. They can make cameos all the way up to Monterey, and south to Baja, but we have several fine spots in which to witness them, including near the San Pedro-based aquarium.
An adult ticket to Meet the Grunion is five bucks.
The Department of Fish and Game runs a comprehensive grunion info site; check it out for more dates and potential grunion landing locations.
Follow NBCLA for the latest LA news, events and entertainment: Twitter: @NBCLA // Facebook: NBCLA
Copyright FREEL - NBC Local Media