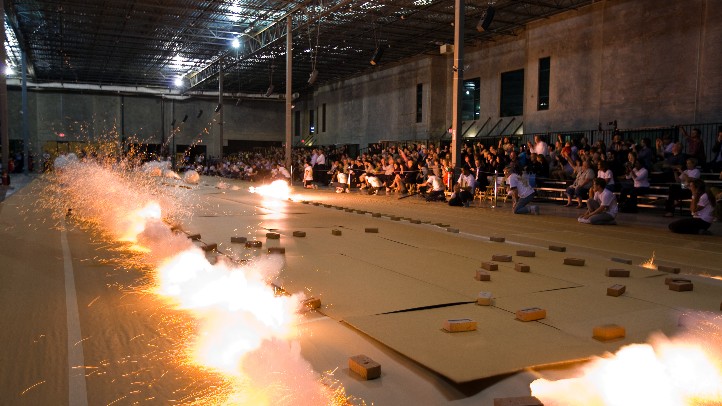 This is certainly the week of the large-scale art museum happening. People are already making plans to gather on Wilshire when LACMA's already famous boulder pulls into town on Friday.
Haven't heard about the boulder? Know the boulder.
But going on downtown? Something as art-filled and epicly minded as LACMA's celebrity granite, though the downtown event is certainly different than a multi-ton boulder suspended between concrete walkways. It's literally explosive artwork set to appear in a new exhibit called Cai Guo-Qiang: Sky Ladder.
The exhibition will open at the Geffen Contemporary at MOCA on April 8 but "a public explosion outdoor event" is set to take place on Saturday, April 7. It is, in fact, entitled "Mystery Circle: Explosion Event for the Museum of Contemporary Art," and it does, in fact, involve three massive drawings that involve gunpowder that will be set alight.
Think the boulder is feeling one-upped? Nah, probably not. We like to think of all of our epic art happenings working in happy tandem.
There are so many moving parts and outsized wonders to the "public explosion outdoor event" -- flying saucers and rockets and "a burned imprint on the museum" -- that it can be hard to know what to marvel at first.
But here's our favorite bit: Volunteers have been gathering all week to help three related gunpowder drawings set to show in the exhibit. This is open to the public on certain dates and times, March 9 being the last session. The drawings will be "exploded on canvas" before appearing in the main exhibit.
It's a provocative notion -- art created in a flash and an instant, after long and careful preparation.
Cai Guo-Quiang: Sky Ladder will be at the Geffen Contemporary at MOCA from April 8 through July 30.
Follow NBCLA for the latest LA news, events and entertainment: Twitter: @NBCLA // Facebook: NBCLA
Copyright FREEL - NBC Local Media