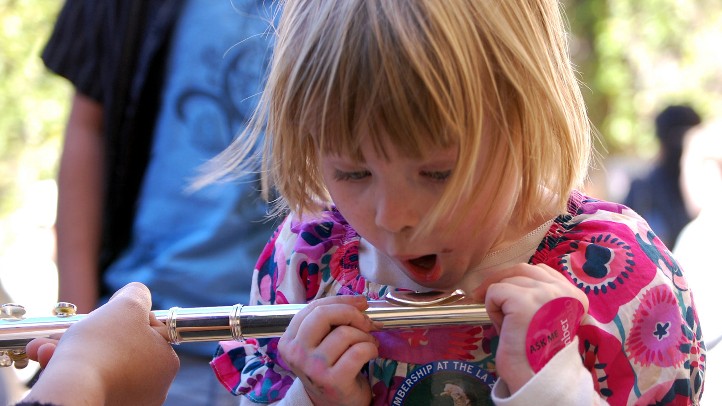 The kid-nice Sunday afternoon concert? It's a time-honored staple of cities and towns across America. If a city has a theater with a stage, bet parents, at some point, each and every year, will arrive with gussied-up children, ready to hear "Peter and the Wolf" or another classical classic.
But when this tradition involves children actually getting up close with the things that make the music, the Sunday afternoon family show takes on a certain sparkle. If you're within shouting distance of the Alex Theatre on Feb. 26, you may sense that sparkle. You might also hear the words "Instrument Petting Zoo" being spoken, and you might be instantly intrigued.
How could you not be? Anything that allows kids to interact with what is going on during a performance is a positive. The Instrument Petting Zoo is part of the Project Trio's Appalachian Spring Family Concert 1, which is happening at 1 p.m. on Sunday, Feb. 26 (well, that's when the pre-concert activities start, like the petting zoo; the show itself is at 2 p.m.).
The Los Angeles Chamber Orchestra and the Pasadena Conservatory of Music are both participating in the sweet, soundful day.
Single tickets are $12 and $20.
So. Which instrument do you most want to see in the petting zoo? Yep, we have to go with anything percussion. Ohhhh, the triangle. Think they'll have a triangle there, with its crystal-pitched "ding"? Fingers crossed.
Follow NBCLA for the latest LA news, events and entertainment: Twitter: @NBCLA // Facebook: NBCLA
Copyright FREEL - NBC Local Media