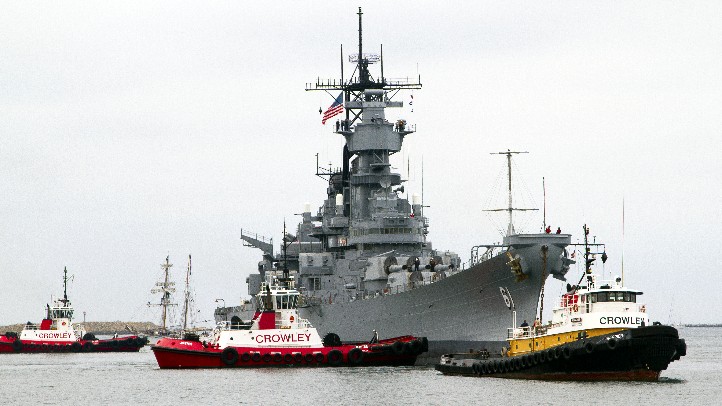 The recent journey of one of the most powerful and storied vessels of World War II has made headlines near and far, but certainly not because of any battles and dramatics.
Rather, watching the USS Iowa pass beneath the Golden Gate Bridge in San Francisco on her way to her new home at the Port of Los Angeles filled many with emotion and a longing to know more about the ship's story. And that story and more memories will be on display in a month's time when the USS Iowa opens as an interactive naval museum on Saturday, July 7.
Now the battleship, which has been waiting at Berths 51-52, will finally dock at its new home at Berth 87 on Saturday, June 9. A ceremony, complete with bagpipes, sea cadets, and special guests, will welcome the WWII legend's arrival.
If you'd like to catch a glimpse of the USS Iowa pulling into its permanent pier, it'll be making its journey through the channel around mid-afternoon on June 9, with a final docking at 3:45 p.m. The sail is set to last one hour and 15 minutes, says a Crowley Maritime Corporation representative, and will cover nearly three-and-a-half nautical miles.
And, of course, the journey of the USS Iowa will receive some needed assistance; four Harbor tugboats will do the heavy lifting. Fire boats are set to join the aquatic procession.
Note that the June 9 event is for invited guests, but you can bet history buffs'll be making for the Port of Los Angeles to see if they can catch a glimpse of the battleship on the move.
For more information on the upcoming museum and "The Battleship of Presidents," check out the USS Iowa site.
Follow NBCLA for the latest LA news, events and entertainment: iPhone/iPad App | Facebook; | Twitter; | Google+; | Instagram; | RSS; | Text Alerts | Email Alerts
Copyright FREEL - NBC Local Media