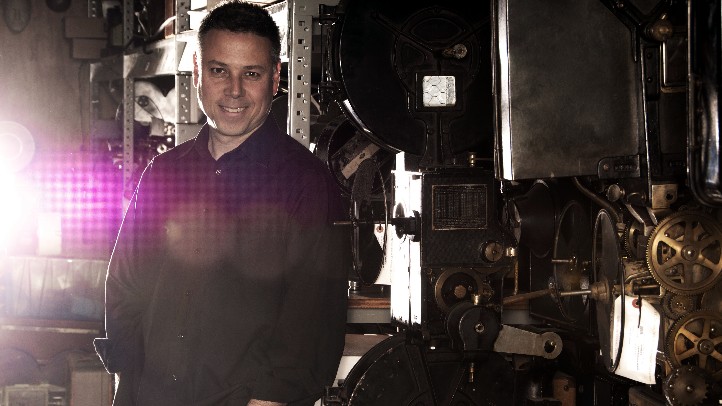 There've been a rash of articles over the last few years documenting the disappearing objects of our daily, or nearly daily, lives. Telephone booths. Drinking fountains. Rotary phones.
Interesting stuff, for sure, but it is always strange to us that the movie projector is usually left off such lists. True, it isn't a thing we interact with on a regular basis, but if you saw a movie in the last century -- we'll guess you have -- the projector played an essential part of that experience.
And now, with the progress of all things digital? Many of those story-spinning devices have been relegated to dusty back shelves.
Photographer Vince Gonzales loves the dream machines, all they symbolize, and, yes, their physical, reel-and-knob-laden beauty. He's back at the Academy of Motion Picture Arts and Sciences for his second photo exhibit celebrating older projectors.
(Apollo Projector cr: Vince Gonzales)
"Tech Art 2" opens at the Pickford Center for Motion Picture Study on Thursday, March 29. The free exhibit, which runs through Sunday, May 6, will include over 30 glorious, full-detailed snapshots of projectors from past decades. "Projectors and equipment" will be displayed alongside Mr. Gonzales's photographs. (Interesting note: He gained access to many fine projector collections for this multi-year project, which makes us wonder all the famous films that may have been first looped up on the machines in the photos.)
This isn't merely for the movie-loving egghead (though we do love a good movie-loving egghead); we recommend it for any movie fan who feels a bit bittersweet about a changing age. The Pickford is also fairly close to ArcLight Hollywood, if you want to see the past and the future of cinematic experience in one fell, film-fun swoop.
Follow NBCLA for the latest LA news, events and entertainment: Twitter: @NBCLA // Facebook: NBCLA
Copyright FREEL - NBC Local Media