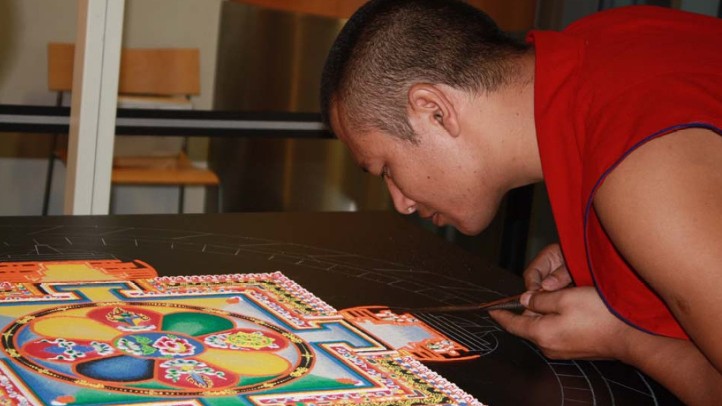 We view sand mandalas, a traditional and highly spiritual artform practiced by Tibetan Buddhist Monks, in photographs, quite often; we're able to admire their creation, their colors, the way the various textures of sand sit side by side.
But watching a sacred and beautifully elaborate mandala come come together before one's eyes is a rarer event, an experience that lends new meaning how a piece is viewed and thought about and certainly appreciated; mandala creation is certainly a specific and time-intensive calling.
You'll be able to watch an exquisitely rendered circle, and its many interior meanings, come together at the Pacific Asia Museum in Pasadena from Wednesday, Sept. 5 through Sunday, Sept. 9. For within those five days a full mandala will be created by a group of Tibetan Buddhist Monks from the Drepung Loseling Phukhang Monastery from Wednesday, Sept. 5 through Sunday, Sept. 9.
Should you visit the museum during this time, you'll see the monks working with a chakpur, or metal funnel. The tool allows them to work with a grain of sand at a time.
The museum is ticketed, but Sunday, Sept. 9 is a free day to honor the monks and their craft. Visitors will see the finished mandala, and they will also see the Dissolution Ceremony, should they stay for 4:30 p.m. At the Dissolution Ceremony "the mandala is blessed a final time and the grains of sand are swept into a pile, erasing the once-beautiful work of art as a reminder of our own impermanence," says the museum.
Follow NBCLA for the latest LA news, events and entertainment: iPhone/iPad App | Facebook; | Twitter; | Google+; | Instagram; | RSS; | Text Alerts | Email Alerts
Copyright FREEL - NBC Local Media