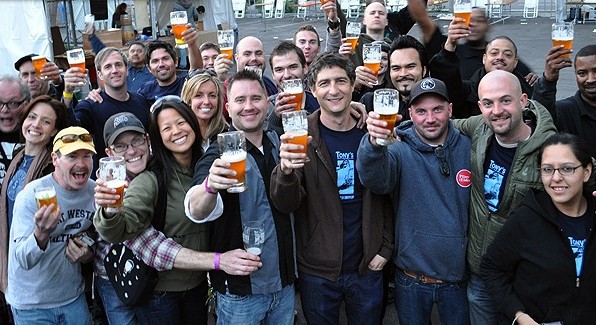 When one thinks "Oscar afternoon" and "grown-up beverage," they very often think two things. One? That the beverages in question are themed to the nominated movies. They're likely be served at a home party alongside themed chips and dips.
And two? They're thinking of that bar inside the Kodak Theatre. You do know the Academy Awards theater has a rather impressive bar inside, right? That's where a lot of the real, I-can't-believe-he-wasn't-nominated convos go down, we hear.
Yeah, we said "convos." It's Oscar Week! Where we can get a little wild!
But there is another adult drink confab going down on Sunday, Feb. 26 and it actually has nothing to do with our city's starriest night. It's the ColLAboration Winterfest at the Belasco Theater. You know ColLAboration, yes? They're all about rounding up the best in craft beer and taking it to the road and stopping at interesting locations for a party.
A few things to note. It's 21+, obvs. There are a few price points that correspond to various numbers of tickets. It's close to Metro Blue, so that makes getting home a snap. And the Oscars? You'll be at the Belasco downtown, so you'll be well out of that epic Hollywood traffic.
Hours are noon to 5 p.m., meaning you could technically make it home in time for Best Supporting Actor.
And if you want to name your beer sips after some of your favorite movies, who is stopping you? Naming beverages on Oscar Sunday is a local tradition.
Follow NBCLA for the latest LA news, events and entertainment: Twitter: @NBCLA // Facebook: NBCLA
Copyright FREEL - NBC Local Media