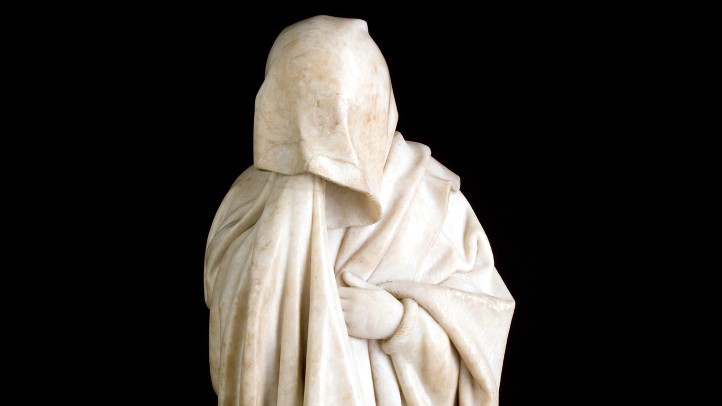 History and art are longtime companions. It's a rare artwork that doesn't reveal something of the time it was created in, a trend or an issue or an esoteric feeling that is a little bit difficult to pinpoint.
But some artworks fully brim with historical context, such as the mourning tomb sculptures from the Court of Burgundy. The 16-inch figures were created for the final resting place of John the Fearless, a Burgundian ruler who passed away in 1404. Now the 600-year-old alabaster sculptures, which are normally on view at the Musée des Beaux Arts de Dijon, are on display for a limited time at the Los Angeles County Museum of Art.
There are thirty seven figures in all, and each holds a different pose. Some faces are unseen, covered by folds of fabric, while others do not wear a hood.
The Mourners: Tomb Sculptures from the Court of Burgundy will be on display through July 31. We'll note that LACMA is holding a special event on Saturday, May 14, which focuses on the wines of Burgundy. Bites and Burgundian beverages are on the bill, as well as a talk about the sculptures and their role in the medieval canon. A ticket for a non-member is $70.
Image:
Jean de la Huerta and Antoine le Moiturier, Mourner with Cowl Pulled Down, Wiping His Tears on His Cloak with His Right Hand, Left Hand on His Chest, no. 52, 1443-56/57, Alabaster, Musée des Beaux-Arts, Dijon. Image © FRAME 2010. Photography by Jared Bendis and François Jay (detail)
Copyright FREEL - NBC Local Media