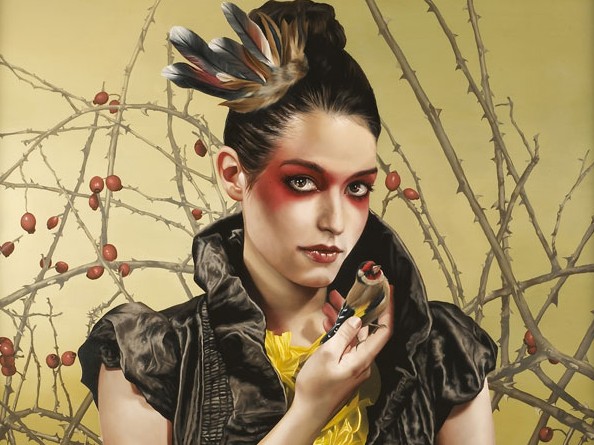 The portrait in painting goes in and out of vogue, in the manner of most things, but a return to one of the most classic of forms with the addition of fantasy-filled elements is always a welcome thing.
Artist Melissa Forman works with female portraiture, which is, of course, a tradition so long-standing in the art world that looking for any beginning date may be a fruitless exercise. Not fruitless: the fruit-laden and nature-rich and highly esoteric paintings created by Ms. Forman, works that are distinctly modern and just a hair unsettling. Portraiture that isn't stiff but rather given over to the strange and symbolic.
Sixteen of Ms. Forman's paintings will go on display at the Corey Helford Gallery starting on Saturday, Nov. 13; there will also be works by UK-based artist Andy Council (show title: "Parallel Evolutions"). Mr. Council says "In my work manmade machines and cities are exaggerated and evolved further still to into fantastical creatures and organic forms." Mystery doubled.
Both exhibits will run at the Culver City gallery through Dec. 8.
Copyright FREEL - NBC Local Media