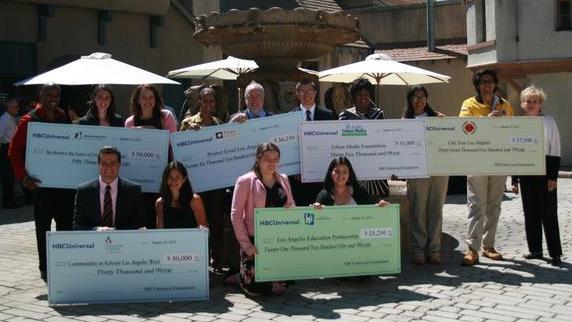 The NBCUniversal Foundation awarded $200,000 in grants to six non-profit organizations in the Los Angeles area as part of the company's ongoing commitment to improving public secondary education in local communities.
The grant recipients for the Los Angeles area include: Big Brothers Big Sisters of Greater Los Angeles ($50,000); City Year Los Angeles ($37,500); Communities in Schools Los Angeles ($30,000);
Los Angeles Education Partnership ($21,250); Project Grad Los Angeles ($26,250); Urban Media Foundation ($35,000)
Craig Robinson, President & General Manager, KNBC and Executive Vice President & Chief Diversity Officer, NBCUniversal said, "Serving the community is critical to the success of any station. Whether it's delivering news that is relevant or partnering with organizations that make a difference in the lives of local residents, being in-touch with and involved in the community you cover is crucial. We are proud to support each of these organizations and the work that they do to promote a brighter future for the youth of Los Angeles."
Victor Franco, Vice President Community Relations, KVEA said, "Education, empowerment, advancement and growth of local Hispanic families has been an important cornerstone of Telemundo52's continuing outreach efforts. With the support of the NBCUniversal Foundation and the partnerships formed through this grant program, we can further extend our work with organizations that are making an important investment in the future of our youth, who are the future of our community."
This is the sixth year of the successful NBCUniversal initiative which supports select non-profit organizations in cities with large NBCUniversal employee populations and significant education needs. Since the Foundation's inception, nearly $7 million has been directed to non-profits across the country that have demonstrated a commitment to improving educational opportunities for public school students in sixth through twelfth grades.
In addition to the $200,000 awarded in Los Angeles, the NBCUniversal Foundation announced grants in New York, Chicago, Dallas, Miami and Washington, D.C., totaling $800,000. These organizations inspire students to succeed through a wide range of programs including college test preparation, career counseling and employment skill development.
NBCUniversal employees

from across the company

have been actively involved with this effort and will continue to support the organizations by volunteering as mentors, tutors and career speakers. In Los Angeles, employees have already served on a career panel for City Year Los Angeles in celebration of Education Nation, and UNIDOS@NBCUniversal affinity group has closely worked with Project Grad at San Fernando High School.