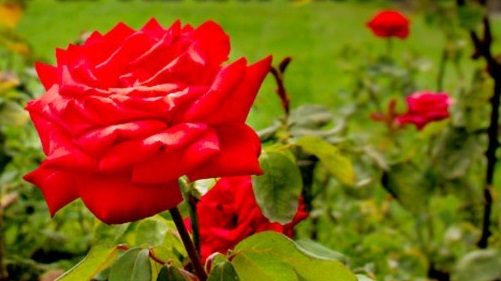 WHITE HOUSE ICONS: Say the words "the Rose Garden" and 99% of all people know just what and where you mean. Despite the fact that there are literally thousands and thousands of rose gardens around the world, there is only one Rose Garden, and it is at 1600 Pennsylvania Avenue. There are many offshoots of the tie between presidents and roses -- or not offshoots, per se, but so many green and leafy tendrils, rather -- but one is this: It's a flower with many presidential associations. First Ladies have had flowers named in their honor, including Pat Nixon.
THE PAT CENTENNIAL ROSE: If you know the Richard Nixon Library in Yorba Linda, you know the gardens and grounds, which are dotted with colorful petals. The Pat Nixon Rose can be found there, of course, but something special happened in honor of the First Lady's centennial in 2012. Some clippings were taken from this rose and 150 new bushes were created. They've recently matured and are now ready for sale. Cost is $39.99. And, nope, they weren't grown in the Rose Garden in Washington, D.C., but they do have real ties to a presidential library and a first lady flower. Call it something special for the gardener with an affinity for U.S. history.
ROSE HISTORY: This particular flower "was developed in 1972...from a black floribunda bloom." The only caveat? It must be picked up at the library, in the museum store. It cannot be shipped. Still, though, think of it also as a field trip to see the presidential garden which is so associated with the blossom.
Copyright FREEL - NBC Local Media