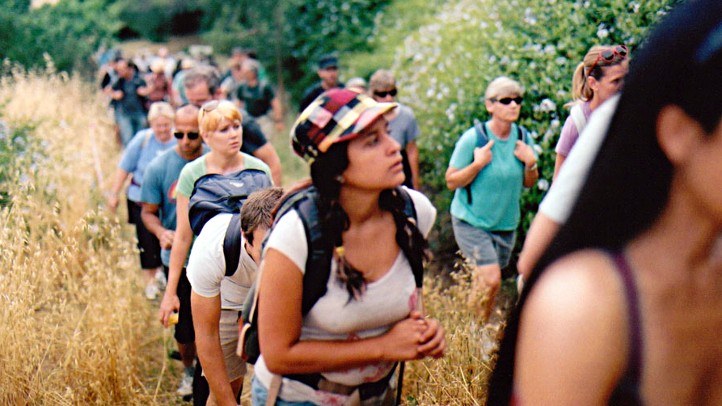 For a city saddled with a longtime rep for hating on the walking, we sure do a lot of happy strutting about.
Take all of the various guides that recommend where to find the shady historic stairways of our canyons. Take Mike Schneider's Great LA Walk, which tackles a major thoroughfare each and every November. And take the Big Parade LA, which wends around the fields and stairways of Silver Lake and downtown and the storied area's storied environs.
Big Parade LA is looping around again, and once again it will likely be a major, well-attended, sight-covering two-day walk. Yep, it's a weekend-long thing, meaning lots of ground can be covered.
And this year? The Saturday, May 19 and Sunday, May 20 walk will cover downtown and Echo Park art and the Laurel & Hardy piano staircase and Silver Lake architecture and Franklin Hills and Griffith Park. (Note: The solar eclipse happens May 20, so bet the observatory'll be all a-bustle.)
Phee-you. That's a lot of good ground. But it isn't about rushing along so much as soaking in the sights and the tales ("No whipcracking" is one of the tenets of the walk). It's also about getting to know the people you're walking with. Bet you'll have something in common.
As always, Big Parade LA is "100% free" with no on-sale merch or donation collections or anything of the sort. It really is just an easy-breezy community get-together that's built on building bonds, local knowledge, and maybe a few calf muscles.
And, yep, we did say stairways before ("calf muscles" reminded us). There's some up-and-down-and-up-again to walk, so take that into consideration, dear urban adventurer.
Photo: Aaron Proctor
Follow NBCLA for the latest LA news, events and entertainment: iPhone/iPad App | Facebook; | Twitter; | Google+; | Instagram; | RSS; | Text Alerts | Email Alerts
Copyright FREEL - NBC Local Media