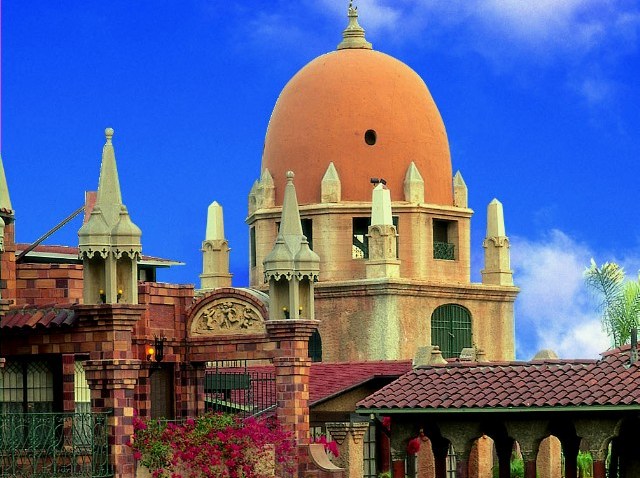 RIVERSIDE HONEYMOON: In much the same way that the famous Chasen's booth where Ronald Reagan proposed to Nancy Davis is now on display at the Ronald Reagan Presidential Foundation and Library in Simi Valley, the Mission Inn is looking back at a personal aspect of the 40th president's life. The Reagans spent part of their honeymoon at the Riverside landmark -- the first night, in fact -- and now the hotel is offering a package deal based on that fact.
"In honor of the man and in celebration of his birthday, The Mission Inn has decided to offer a special Ronald Reagan Honnymoon package, to bring in Southern Californians. Give them the opportunity to come and stay at the hotel and actually stay in the suite," states Ted Weggeland, Director of The Historic Mission Inn Corporation.
SUPPER AND PASSES, TOO: Besides a night in the Alhambra Suite -- yep, that's the honeymoon suite itself -- guests will dine at Duane's, the on-site steakhouse (a $200 gift card will help with the check). Massages and comped valet is in the fine print, too. There are also two passes to the Reagan Library in the mix. Of course, Simi Valley is a bit of a drive from Riverside, so you might now want to do it all on the same day. The package starts at $1199.
NOTE: The info's a bit further down on the specials page, so you'll do some scrolling.
Copyright FREEL - NBC Local Media