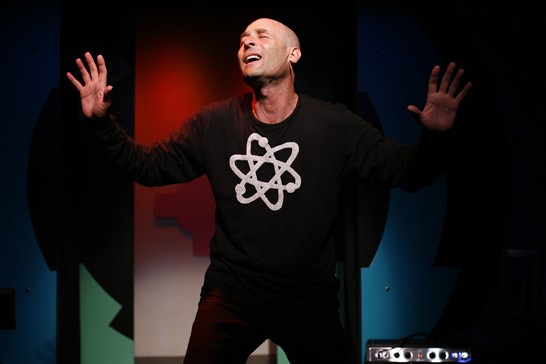 Oh, we all go to plenty of events, there's a host, they seem nice, they say a few words, and immediately they pop out of our minds. Gone. That was pleasant enough. Where's the buffet?
But not Charlie Lustman. Anyone who visited Silent Movie Theatre on Fairfax in the early aughts developed a deep respect for the magical man at the theater's helm, with his sparkle and smiles and ever-present newsboy cap. We liked that he helped save the landmark, and did it with style, and that he really loved all the films he was showing. But, shocking news: Lustman had to give up the gig due to a bone cancer diagnosis in 2006. But, wonderful news: Lustman, an artist through and through, turned to song to tell his very moving story.
"Made Me Nuclear: A Pop Operetta" is about that diagnosis, and getting through it, and love, and looking forward. He's kept his sense of humor and dedication to making art, and it shows in the lyrics and feeling of the music. It's surely a cathartic act for him to perform each Friday and Saturday night, and for audience members, many of whom are going through their own extreme tribulations, to experience. Bravo, Charlie.
Fridays and Saturdays through March 31; 8PM
$20
Santa Monica Playhouse
1211 Fourth Street, Santa Monica
866-468-3399
Copyright FREEL - NBC Local Media