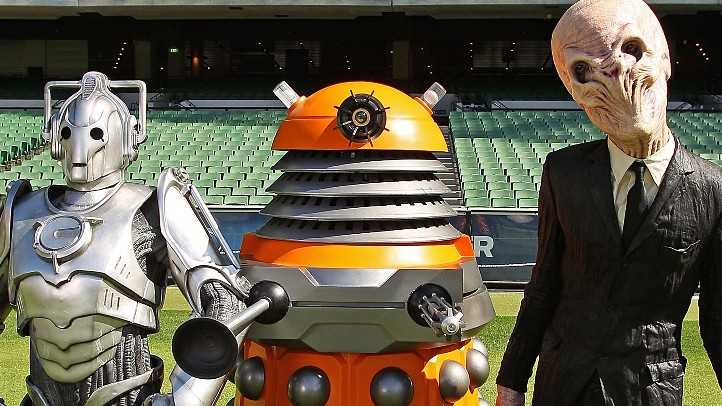 When we typed the words "The TARDIS Stops on Sunset" above we got to thinking how that might sound vaguely like something the Doctor of "Doctor Who" might try -- land on an actual sunset.
But we mean Sunset Boulevard in this case, and, nope, one of genre television's most famous heroes will not be dropping by the boulevard in his magic blue box (well, we don't think). Rather, the Nerdist is making for Meltdown Comics to screen classic "Doctor Who" adventures each Saturday afternoon; make that a "complete adventure," which can come in multiple parts.
The kick-off date is Saturday, Sept. 29, the time is 2 p.m. and the cost is free. BBC Home Entertainment is behind the fun, so yay that.
What are your to-knows here? You're invited to come in costume, which is something you nearly don't even need to say to a true "Doctor Who" fan; they're gonna. Let's just put that out there. Bowties and scarves will be seen in profusion.
Also? Knowing some trivia can't hurt, especially if you are interested in prizes of a Whovian nature.
The nearly 50-year-old British phenomenon has taken off in recent years, making the cover of American magazines (hi, Entertainment Weekly) and playing big at major happenings like Comic-Con. All the better reason to catch up with the earlier episodes, from the '60s, to see where the fuss grew.
Oh, and the Sept. 29 adventure? It's "Planet of Giants" starring Doctor numero uno. He's wearing a cape <a href="http://
Follow NBCLA for the latest LA news, events and entertainment: iPhone/iPad App | Facebook; | Twitter; | Google+; | Instagram; | RSS; | Text Alerts | Email Alerts
" target="_blank">in the still pictured here, which fully supports the fact that no other character does elegant and suave like a certain police box-stealing time traveler.
Borrowing, we mean, right? Not stealing. Permanently borrowing.
Follow NBCLA for the latest LA news, events and entertainment: iPhone/iPad App | Facebook; | Twitter; | Google+; | Instagram; | RSS; | Text Alerts | Email Alerts
Copyright FREEL - NBC Local Media