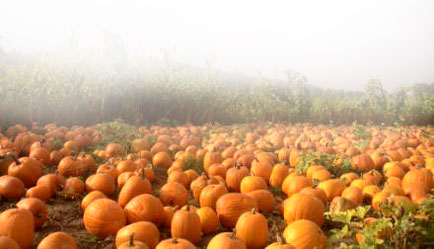 Big, expensive, elaborate high tech Haunted Houses may be good scary fun for Halloween. But 100 years ago they'd cut a maze in the corn and have a terror of a time running through it.
Now, in the 21st century, Pierce College in Woodland Hills has a nightly event in the weeks leading up to, and including, Halloween weekend, that will absolutely scare the pants off you. It's called "Creatures of the Corn." And, it's as simple as very tall corn, with a maze cut into it, and as you work your way through it... actors dressed as ghouls jump out and chase you.
If that sounds kind of horrifying to you, believe us, it is. The Haunted House they have next to the Corn Maze, called the "Factory of Nightmares," is no walk-in- the-park either.
If you prefer your Halloween entertainment a little tamer, or if you have little ghosts and goblins that need it taken down a notch, the Pierce College "Harvest Festival" has all kinds of games and attractions for you. And, that includes another, kinder corn maze, with an educational, environmental theme, minus the ghouls. And, kids love the huge pumpkin patch, where you can pick-out that perfect future jack-o-lantern
It's not too late to catch the Harvest Festival, Corn Mazes and Factory of Nightmares. But, if you don't make it this year, it happens every year around this time.
You can get information on times, prices and driving directions at this website.
And, be scared. Be very scared.