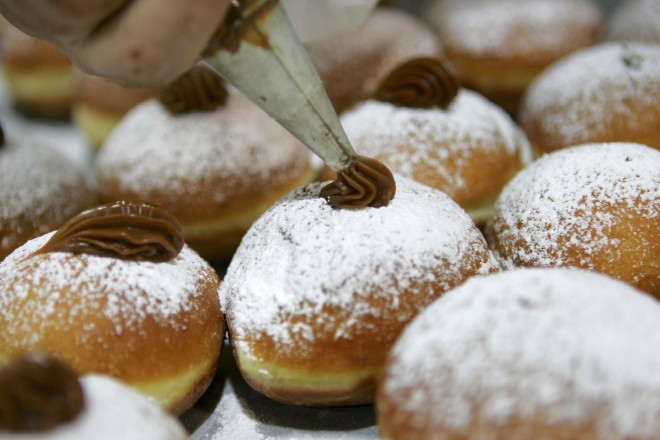 So we were thinking how completely outlandish it might be to show up with some pumpkin donuts from Frittelli's as our get-in-the-door gift at any Turkey Day celebrations we might drop by. We'd be the talk of the party! The hostess would whisper our name reverently for years to come! How daring, they'd think. Donuts, but still seasonal, with the whole pumpkin thing going on. Not your usual pie. Not the green-bean bake doused in luscious cream-of-mushroom soup. Totally, 100% cutting edge.
But blogdowntown alerted us to the bacon donut at the Nickel Diner, a fried treat that is creating so much delicious buzz that it just made the CBS2 news. We're already picturing the reaction when we walk into the party with a dozen of those beauties. We'd only have to fight the urge to devour them secretly in the kitchen while people played charades in the living room. Sweet and meaty married? Hell, we loved the chicken sandwich inside the Krispy Kreme donut at the LA County Fair a couple of years back. And we do mean loved.
Though there is the Stan's classic peanut butter donut, which make people wild-eyed with donut-y lust. We're sure any host would stash those toothsome goodies away for a Friday morning, completely solo post-Thanksgiving pig out. Okay, swing by Westwood before Thursday. Check.
Or maybe we'll just order a six-pack of Dr. Dremo's Chocolate Donut Beer for the host and call it a day? Decisions.
Copyright FREEL - NBC Local Media