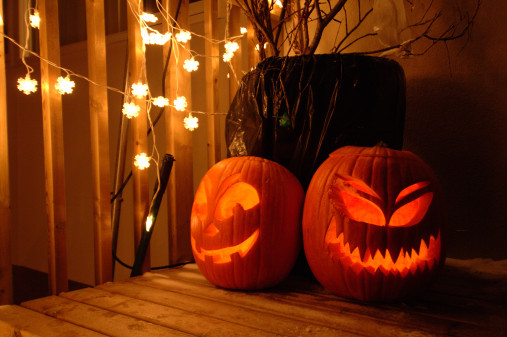 Why wait for Oct. 31? Halloween is a holiday that should last all month. So here are some spook-tacular weekend events that will help you make the most out of All Hallow's Eve a week early.
If you are in the party mood, you can don your costume early for the LA Gay and Lesbian Center's Halloween Party hosted at the icon Hollywood Forever Cemetery. The party stats at 9 p.m. Saturday and lasts until 2 a.m. Tickets start at $75 and get revelers access to a hosted bar, ample music and dancing, costume contests and free photos from professional photographers.
Still feel like you want to wear that costume? The Orpheum Theater is hosting their notorious Best in Drag Show on Sunday, billed as the "Best Drag Show Ever and we agree. Celebrity judges will proceed over this opulent beauty contest including Kathy Griffin, Holland Taylor and John C. Reilly. Proceeds benefit organization Aid for AIDS. The show starts at 7 p.m.
If you need more costumed awesomeness, the L.A. Sports Arena is hosting an extravagant "Monster Massive" party where the monster mash is perfectly acceptable. If you need to jazz up your Saturday, get out your dancing shoes and get ready to fist-pump. Music, dancing and all-out costumed goodness will jam with musical headliners including Moby, The Glitch Mob and celebrity D.J. Samantha Ronson. The Monster Massive begins at 5 p.m. and lasts until 2 a.m.
Halloween is more than just costumes and parties, and this weekend spooky scavenger hunts offer Angelenos a chance to be sleuths and solve some mysteries of local lore. Out of the Box events has two different hunts going on. Their 4th annual Haunted Hollywood scavenger hunt returns this weekend, Friday through Sunday from 6 to 8 p.m. This year, the hunt beings in a haunted speakeasy in Hollywood. Teams of up to six players discover clues to ghosts haunting Hollywood Boulevard. The hunt costs $25 per player. Out of the Box is also hosting their 2nd Annual Haunts of Angelino Heights, Saturday and Sunday 4 p.m. to 6 p.m. Discover the "thriller" house and ghosts that haunt this Victorian neighborhood. Registration is $30 per player and a portion of the proceeds benefit the Los Angeles Conservatory.
More creepy LA houses are open for ghost hunters this Saturday and Sunday when the Heritage Square Museum host their Halloween and Mourning Tour from 12 to 4 p.m. Visitors explore death and mourning during the Victorian era and even attend a Victorian era funeral ceremony. Sunday activities offer a chance to meet members of the International Community for Paranormal Investigation and Research and view some evidence of paranormal activity. Admission is $10 for adults.
Need more reason to be scared out of your pants? UCB is hosting True Ghost Stories hosted by Reno 911's Ben Garant. But beware; these stories are no joking matter. These are true ghost stories and aim to thrill. Stories start to tingle Saturday at midnight. Tickets are $5.
Creepy Halloween-inspired music takes the spotlight at the tongue-in-cheek performance, Eban Schletter's Witching Hour at the Steve Allen Theater Sunday at 8 p.m. Hosting a variety of music and comedy from Crissy Guerrero, Tracy DeNisi and Laura Milligan and plenty of special guests. General admission is $10.
For a lighthearted day of family-fun, join the throngs of spectators in Costa Mesa for a procession of tricked out hearses at the Trick or Treat Festival this Saturday from 10 a.m. to 4 p.m. The festival also includes a costume parade, face painting, stilt walkers, magic and juggling show and plenty of music and other family activities. Adult admission is $2 and free for kids.
Culture and food are also being served up this weekend for free at Surfas Restaurant Supply and Gourmet Food as they host a free cooking demo and tasting of Day of the Dead gourmet fare. Chef and art historian Maite Gomez-Rejón serves up traditional dishes like hot chocolate and pozole, some history and legends behind the celebration of the dead. Taste bud tantalizing happens Saturday from 12 to 2 p.m.