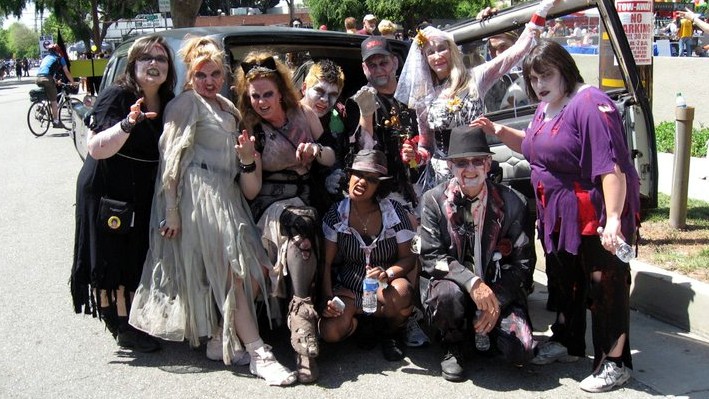 It is right and good that Thrill the World Day -- that date in late October when thousands of zombified revelers join up in cities across the globe to dance to Michael Jackson's "Thriller" -- has such a robust following in Los Angeles.
After all? This is the home of the "Thriller" house. (It's in Angelino Heights, but then you knew that.) John Landis shot the video here. And one of the video zombies teaches students the moves at a Third Street dance studio, each and every year.
Yep. It's good to be a zombie fan and live in LA.
Thrill the World 2011 is happening on Saturday, Oct. 29. Many snarly souls'll take to Pine Avenue in Long Beach 'round about highly unzombie but easy to make hour of 2 p.m. (The actual dance kicks off at 7 p.m., we'll add, but the hours of revelry are long in Long Beach.)
Or perhaps 2 p.m. is a very zombie time of day. For that is the exact time, one day later, that Kim Blank will teach her "Thriller" class at Swerve Studio. Ms. Blank was one of the lady zombies in the video, and she teaches the precise, jagged, and clawed-handed moves each Halloween weekend. The date for the class is Sunday, Oct. 30, time is 2 p.m., as we mentioned, and cost is $20. This sold out last year so you'll want to get on this if you want to get on it.
We should mention the two events are not affiliated but will likely be of interest to many aspiring zombies around town. So we're merely doing a service here.
Now. To watch some of the foot-draggy, throat-grumbly stylings of the Thrill-the-World-ers. Here they are in front of the Chinese Theatre in late August.
Copyright FREEL - NBC Local Media