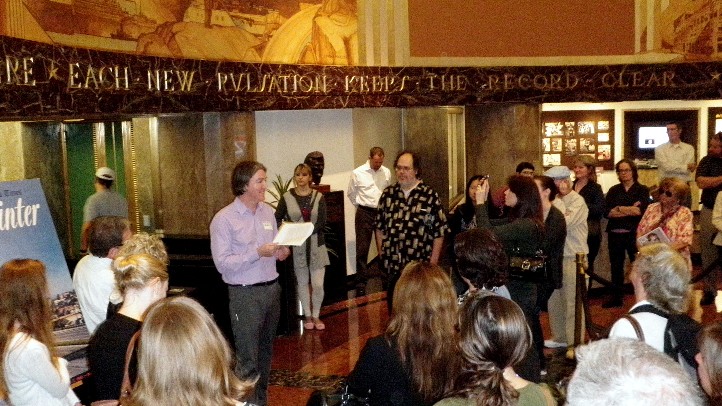 For people who like historic rooms, buildings with lore, free things, weekday lunches spent learning, and discussing various topics, "Thursdays @ the Globe" is a bit of a boon.
It's the new-ish, once-a-month, stow-your-cash talk at the LA Times building. The name is a bit of a spoiler; the talks happen in the building's famous Art Deco lobby, which is just about as 1935 as all get-out. And, in the middle? Yep. A big, marvelous Globe. We can almost see Clark Kent striding by, looking for the nearest phone booth.
The next Thursdays @ the Globe is just ahead, on Jan. 19 at noon, and it has an awards season bent; Rebecca Keegan of the LA Times Calendar will speak, as will Randall Roberts, who covers the pop music scene. Bet the Grammys and Oscars'll bounce around the room a few times.
Again, it is a free thing, and a great way to see an area of the company that few people outside of the LA Times ever really experience. And growing the mind and hearing fresh takes on music and movies? A bonus.
If you want to know more about the Globe lobby, keep an eye on the Downtown Art Walks, which also happen once every month; there've been special tours of the room, with more behind-the-scenes-y tidbits.
Follow NBCLA for the latest LA news, events and entertainment: Twitter: @NBCLA // Facebook: NBCLA
Copyright FREEL - NBC Local Media