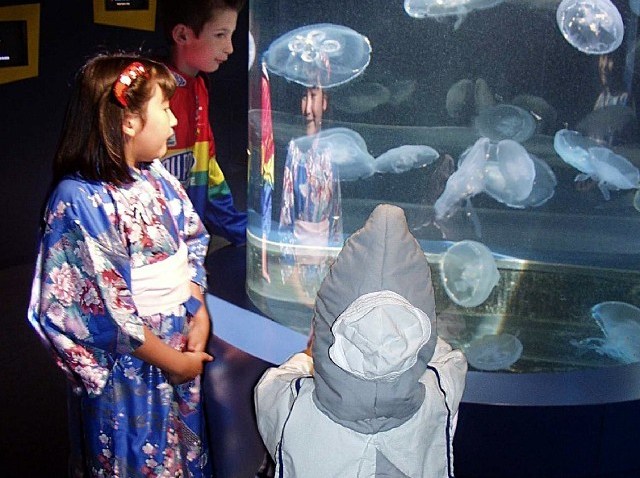 Is there anything more charming than seeing a little kid dressed up as a shark -- like the tyke at the bottom of the picture above is -- inside an actual aquarium?
Of course, you don't have to go with a nautical or marine theme with your costume if you're planning on attending the Aquarium of the Pacific's Halloween Family Sleepover, which is happening on Friday, Oct. 22, but you do have to get tickets. Soon. A per-person ticket is $60. Kids 5 and up are welcome, and of course an adult needs to attend with the small fry as well. Details.
This is one of those "space is limited" deals, and the fun of dressing up in costume and doing Halloween-y things inside the low-lit, creature-filled institution is so appealing that tickets do go. Plus, sleepover at the aquarium. Four magic words in a child's vocab.
The night will include pumpkin decorating, a "freaky flashlight tour," and a goodie bag. Plus visiting with the tidepool animals. Plus a movie. Plus other slumber party standards. We should note that the annual "Scarium at the Aquarium" is the following day (and the day after, on Sunday the 24th), and while this is a separately ticketed event sleepoverers are welcome to attend.
Better ticket up, and get that crab costume going. Ohhh, or sea anemone. Only we imagine you'd kind of have to "float" your arms all night, like currents were passing gently over you. But, not to much to ask to bring a costume to life, right?
Copyright FREEL - NBC Local Media