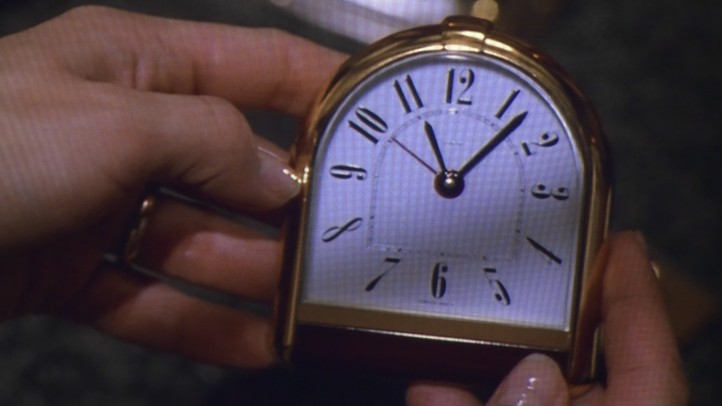 Did you catch the much-talked-about 24-hour film "The Clock" when the Los Angeles County Museum of Art screened it a few months back?
We're going to bet that if you did you remember exactly the time you sat down and the time you departed the theater (us: 1:27 and 2:18 in the afternoon, respectively). Artist Christian Marclay's epic, day-long film is indeed one gargantuan, mind-bendy clock; it is, in short, a movie that contains thousands of shots of watches and timepieces. And the numbers on each of those clocks corresponds, exactly, to the time the viewer is currently experiencing in real-life.
Deep.
And we're not being flip with that "deep" either. Watching an hour or so is actually a rather amazing experience. Viewers who missed the experience the first time around are going to get a second chance; it'll be back at LACMA, for one night, starting at 5 p.m. on Thursday, July 28. It's in the Bing Theatre.
Oh, and it is free. Free in the way that looking at a clock is free.
Deep?
Two things to say. The first thing is that even though you know going in what it will be, it doesn't matter. Because you watch it and you can't believe that such whimsical, time-consuming (hee hee) project was even undertaken; even a five-minute window contains dozens of clips of clocks with the exact same time. How? How.
The other thing is to be there at midnight, if you can. Word is that's the big moment of the film, with all sorts of chimes and rings and dings going off.
Midnight at LACMA? Viewing something rather strange and wonderful? We're not even going to go the "twist our arm" route here because no arm-twisting is required.
Image: Christian Marclay (United States b. 1955). Detail from "The Clock," 2010. Single channel video. Purchased with funds provided by Steve Tisch through the 2011 Collectors Committee. The Clock © Christian Marclay, courtesy of White Cube, London and Paula Cooper Gallery New York
Copyright FREEL - NBC Local Media