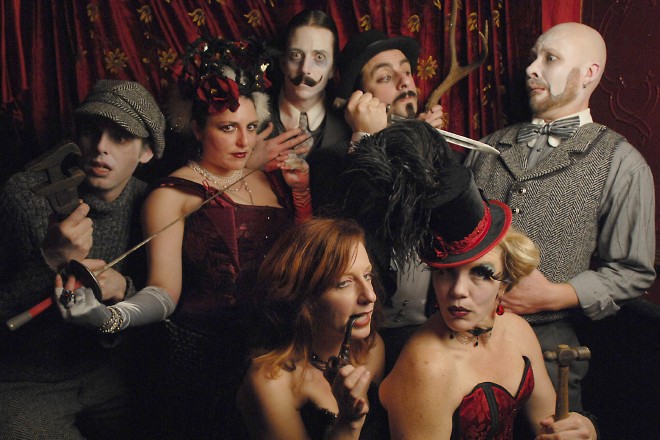 We tip our lace-lined parasols to the die-hard steam-punkers of the world, the goth-y Goreyists, the youth who were born in the 1980s but kind of wish that their birth certificate read 1880s instead. It isn't all damp hankies for this lot, though, as they wend their way through our oh-so-modernized world. Events like The Edwardian Ball keep cropping up, the better to keep fans of "The League of Extraordinary Gentleman" comics, peek-a-boo dance girls, old-time cabaret and daguerreotype photography feeling damn chipper.
The Edwardian Ball, which waltzes into the Tower Theater on Saturday, January 31, offers a host of back-in-time treats to please the Gibson-iest of girls and gents. Among our picks: Dark Garden, a troupe of dashing corset makers who can outfit a waist in need of a few good tugs; Miz Margo, a goth-tinged DJ who shall be unleashing her gorgeous stylings on the proceedings; and City Circus, which summons vaudeville magic.
We're sorry, deeply sorry, that gaslight has pretty much gone away for good. So have cobblestone streets, and horse-drawn carriages, and wonderful flying contraptions sporting giant paper wings. But revisiting the fabled era for an evening? Entirely possibly. Come dressed to the nines, and don't forget your monocle.
The Edwardian Ball
Saturday, January 31, 8PM
$30 general
Tower Theater, 802 S. Broadway, Los Angeles
Copyright FREEL - NBC Local Media