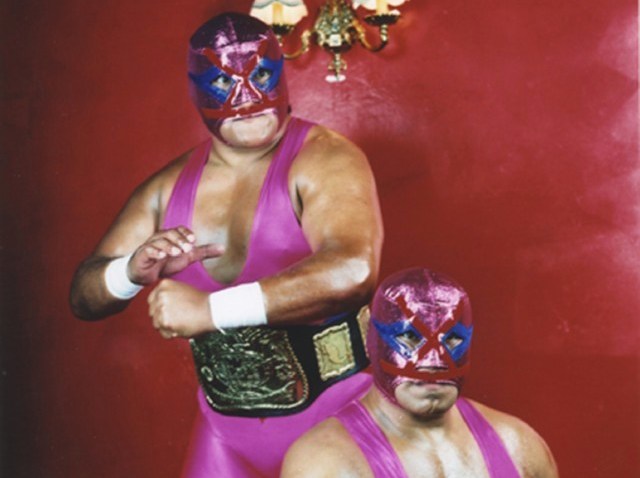 Luchadores, masked, theatrical and ready to grapple in breathtaking wrestling bouts. Seductive temptresses, barely clothed and throwing come-hither looks. And wall-to-wall jokes.
Does Lucha VaVOOM, that several-times-yearly wrestling/burlesque/comedy wonder, even need a cherry on top of what is already a sundae doused in syrup and marshmallows? In October, yes, and that cherry is a cavalcade of Halloween-flavored thrills, chills and thrown-over-the-shoulder spills.
The much-loved Mexican wrestling-meets-striptease spectacular gets a seasonal sprinkling of spookiness at its "Creature Feature" showdown on Wednesday, October 28th and Thursday, October 29th. Look for appearances by Villainos, a tough twosome ready to throw any pretender to the mat. El Hombre Invisible will be there, too, working his prowess from places you can't predict. And what would the spooky season be without a nocturnal visit from El Chupacabro? Make that a trio of 'em.
Burlesque divas on the bill include Cherchez La Femme, Moana Santana, Victoria Vengance, Michelle L'Amour and Lux Lacroix, who promises to perform her "sexy robot" (interest piqued, Lucha, interest piqued). And "hula hoop hottie" Karis will be spinning, seductively, the magic rings of wonder.
Those in it just for the laughs can expect a barrage of over-the-top yuks from the fast-talking commentators. Vocal acrobat Tom Kenny is slated to host with Greg Proops on Wednesday night, while the delightful Dana Gould takes the mic on Thursday. We just saw Dana Gould at the Sunday Cinematic Titanic at Largo. Funny man who made us smile.
We think of Lucha VaVOOM as kind of Halloween-y all year long, so we can only imagine how much the ante gets upped for this skin-tingling showstopper. October 28-29; 8PM both nights. At the Mayan downtown.
Copyright FREEL - NBC Local Media