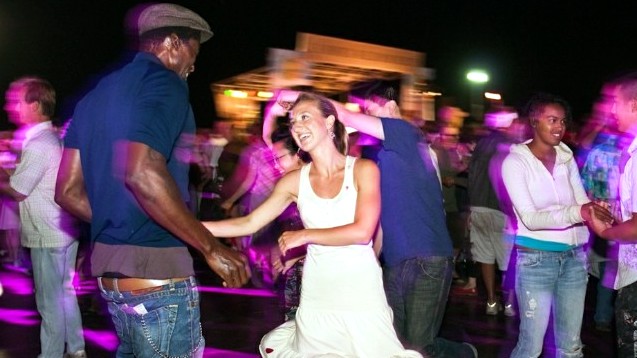 It's appropriate that the popular Twilight Concert Series, a Santa Monica Pier summer staple for the better part of three decades, is set to kick off less than a day after the Fourth of July wraps.
After all, it has a lot of that Fourth spirit: It happens at the pier, which is a place many revelers make for on a day off. It is just about on top of the ocean, which a lot of people visited over the holiday. And it is free, like many fine Fourth to-dos. Nope, it isn't affiliated with Independence Day, but we think it shares some of the holiday's charms. In short? It is nearly synonymous with high summer in Santa Monica for many.
And the 2012 concerts, which open on Thursday, July 5, will have charm to spare. Donavon Frankenreiter kicks off night number one, along with Jeff Young's Song & Dance Society. One of our city's newer house bands, Best Coast, will wrap it all up on Thursday, Sept. 6. (Looking forward to hearing the band's LA love song "The Only Place" in that quintessential setting.)
As for the Thursdays sandwiched between those two? There are more goodies, like Jackie Greene on July 26 and Alex Cuba on Aug. 23.
We already mentioned the marquee fact about the 28-year-old series: It's free. Here are a few other to-knows: The music starts at 7 p.m., but don't pull up too late. Sonoma on the Deck will be selling vino and brews from the Golden State and beyond. And dancing? Yep, that's tradition. In fact, we may go a bit sentimental and say that swinging your favorite somebody, summer sunsets, and pier music goes back even before the Twilight Concerts began.
Are you feeling that holiday summer spirit? Keep it going, straight into July 5, and just beyond Labor Day, each Thursday night. Oh, and even though it is summer? You know the drill: Show with a wrap or sweatshirt for when that marine air rolls in. Or dance extra hard, to keep your own heater going.
Follow NBCLA for the latest LA news, events and entertainment: iPhone/iPad App | Facebook; | Twitter; | Google+; | Instagram; | RSS; | Text Alerts | Email Alerts
Copyright FREEL - NBC Local Media