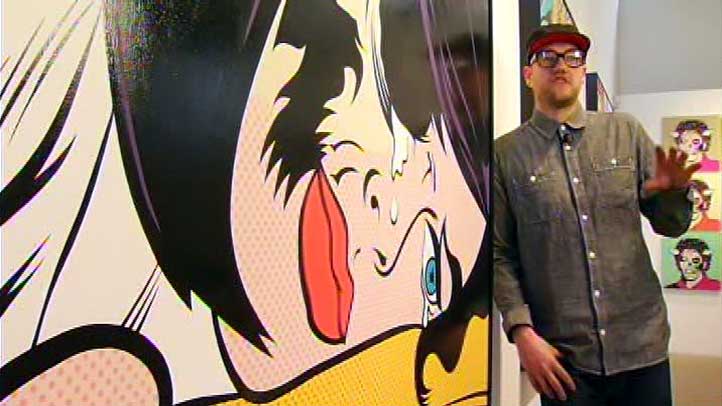 The UK street artist perhaps best known in Los Angeles for installing skeletonized Oscar statues in Hollywood just in time for last year's Academy Awards is headed back to the Southland.
D*Face, a London-based sculptor and street artist, told NBCLA this will be his first trip back since the town was left stirred, puzzled or just indifferent about the zombie statues.
The artist's themes often combine fame and mortality, and his upcoming solo show in Culver City will draw from that same "disgusting" bucket.
"I'd like attendees to first and 'for-mostly' enjoy the work, or be disgusted by it," said D*Face in an e-mail to NBCLA.
"If at first, their take is merely on its surface value/presentation, that's great, but each and every piece has a deeper back story that I hope viewers begin to question either at the show or after," said D*Face. "This surrounds the notion of beauty being skin deep, the idea of love, betrayal and nothing lasting forever."
Art lovers should leave the pretentiousness at home; or in the artist's own words, "it wont be your 'traditional' gallery experience where everyone stands around sipping wine pretending to be interested in the artwork or philosophizing about the 'artists intention in every brush stroke.'"
Expect a few surprises at the show, says D*Face.
"I can't tell you too much, but it's definitely got its shock-and-awe elements," said the artist, who added we can expect a red carpet. "Well, you have to have one of those at an LA opening, don't you?"
There may or may not be appearances from Andy Warhol and Marilyn Monroe, although those zombie-esque plans are subject to change. "You know how these celebrities are...," says the artist.
Celebs, street art and Los Angeles seem to be the perfect mix for D*Face.
"Considering what my work is about, LA is the most fitting environment for it," said the artist.
Over the years, street art has found a special place in the City of Angels. Last month, Angelenos were ready to go to the mattresses to defend a Banksy work in Westwood. Then, entertainment gurus couldn't stop speculating whether or not we'd see Banksy collect an Oscar (we didn't).
And of course, let's not forget LA's favorite son, Mr. Brainwash, featured in "Exit Through the Gift Shop"? The film seems to have introduced the masses to the street art scene -- although D*Face says the doc hasn't had much of an effect in his world.
"Who (would) have thought that a documentary that is essentially a reworking of Mary Shelley's 'Frankenstein' would prove so popular? It seems that the irony of the film didn't quiet work," the artist said. "Has it changed anything for me? Sure, my mum knows more about what Banksy's doing than I do."
D*Face may be from the UK and he may be atop the street -art scene, but whatever you do, please don't call him this year's/next year's/tomorrow's Banksy.
"I'm still trying to catch up on being last year's D*Face," the artist jokes.
The show runs April 9-27 at the Corey Helford Gallery in Culver City, with an opening reception on April 9 open to the public from 7:30 p.m. to 10 p.m.
If you can't make the show, don't worry -- D*Face's work may show up around town:
"I think (you'll) all like what I have planned for the streets on my next visit."
"Going Nowhere Fast"
A new body of work by D*Face
April 9-27
Corey Helford Gallery
8522 Washington Boulevard
Culver City, CA 90232