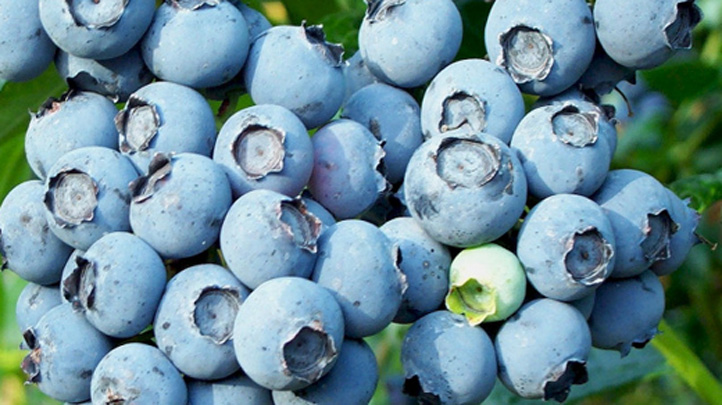 CAN YOU INHALE 18 BLUEBERRIES... in one sitting? That would likely be a resounding "can I?!" or "yes," at least if you're a gotta-have-'em daily blueberry buff. It's pretty easy to tip the small basket, the one holding your fruit, and watch as blueberry after blueberry falls on top of your oatmeal or ice cream sundae or into the blender for smoothies. At times, 18 blueberries can feel like just the beginning, and you crave more, a dozen more, two dozen, even. So we bring "18" up here, and the fact that one often wants more blueberries than one has, for a reason, and it is this:
18 MINUTES, by car, separates Somis from Moorpark, the two locations that are home to Underwood Family Farms. The popular Pick Your Own, pet-a-goat agricultural destinations aren't all that far apart, in the grand scheme, but going to one Underwood, when you meant to go to the other, can happen. So should you want to go blueberry picking, you'll want to make for Somis, not Moorpark (though Moorpark, of course, has plenty going on, too). That's right,
BLUEBERRY PICKING JUST OPENED... in Somis for the season, on April 22, 2017, and they're $3.99 per pound. The season is expected to run through June, but best keep an eye on the Somis Pick Your Own page to get all the haps on the Berry Trail. Admission? It's free, as is parking. Are there other berries to pick? Strawberries are currently in season, with raspberries and blackberries soon to come. Read all, dream about your future bowls of oatmeal, and try to remember the last time you only ate 18 blueberries and called it enough. If you need more of this healthful little orb, a lot more, heading to the Pick Your Own at Underwood Family Farms in Somis sounds like a juicy plan, for sure.
Copyright FREEL - NBC Local Media