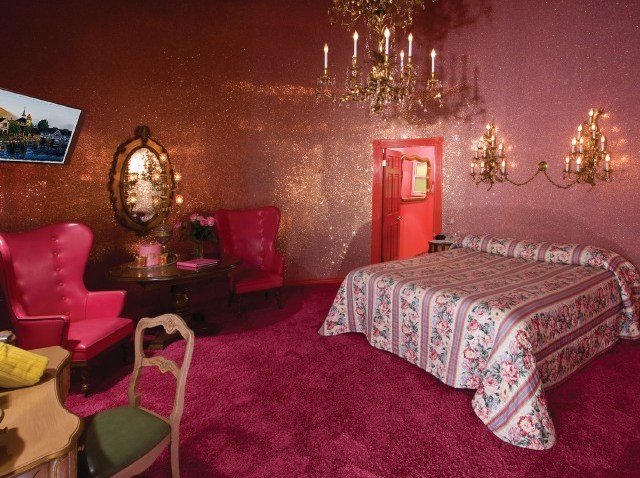 The Golden State is known for its great variety of nearby getaways, both luxe and outlandish.
And come Valentine's Day -- especially a Valentine's Day where many people have the next day off from work -- the hotels get booked up.
We've been thinking about the variety of romantic overnighteries within driving distance of Los Angeles. Naturally the Madonna Inn, one of the world's great honeymoon hotels, and a cinematic star in its own right, sprung to mind. All those themed rooms. Valentine's Day. Easy to make the wink-wink connection.
With that in mind, and knowing full well that the famous Caveman Room likely got booked for Valentine's a long, long time ago, we rang the Madonna Inn to see what's left.
What's Left is not left (if you know the hotel, you know the room named What's Left, which has bits of material and carpeting from several other rooms). Many of the other rooms are also booked as of midday Monday. But the Buffalo was still open, as were the Old Mill and Victorian Gardens. Spend some time with the room grid now. (Merry, pictured above, recently got reserved.)
If you're on the last-minute planning track, and you have a partner who adores striking rock walls and orange juice in fancy goblets and dolls on swings and gorgeous San Luis Obispo and a classic California hotel that is truly its own place, call the Madonna at once.
Copyright FREEL - NBC Local Media