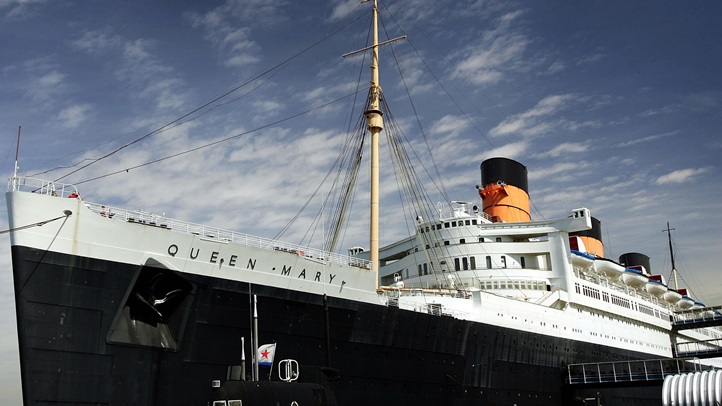 THEY SAY THAT TIME TRAVEL'S IMPOSSIBLE, as is leaping about the world via magical portals, but somehow the Queen Mary will manage to do both over a single weekend. That weekend falls in the middle of February, which might immediately bring Valentine's Day to mind, and you'd be correct. It also happens to be ScotsFestival, a celebration of the landmark's Scottish heritage, and the hearts-and-bows make happy room for the cabers and kilts. It's busy at the Long Beach destination, in short, but if you're looking to time travel, rather than place travel -- or in addition to traveling to Scotland for the weekend -- then book a reservation for Sunday, Feb. 14. The oh-so-wayback-y ship is throwing a Vintage Valentine's, complete with some va-va-voom burlesque performances.
VINTAGE VALENTINE'S: The supping will be sumptuous, as you might expect for both the holiday and the location, so prepare for a four-courser, one that is described as "historic." What goes on an historic menu? A duo of filet with black truffles, plus Chicken Breast Florentine, plus lobster ravioli, plus "chocolate and salted caramel barquette with balsamic syrup and seasonal berry compote," plus a beet-and-goat-cheese starter salad. Jenna Leigh Green of "Sabrina the Teenage Witch" is the headliner of the burlesque show, which has two seatings on Valentine's afternoon and evening.
SCOTSFESTIVAL, AHOY: As for the outside action? Look for towering athletic displays that hearken back to the Highlands, and traditional dining, too, including a Robert Burns tribute dinner featuring haggis and whisky. Bagpipes, dancers, and more classic convivialities pay heart-swelling tribute to the land where the Queen Mary began. Is this your Valentine's jam? It's happening on Feb. 13 and 14. Details.
Copyright FREEL - NBC Local Media