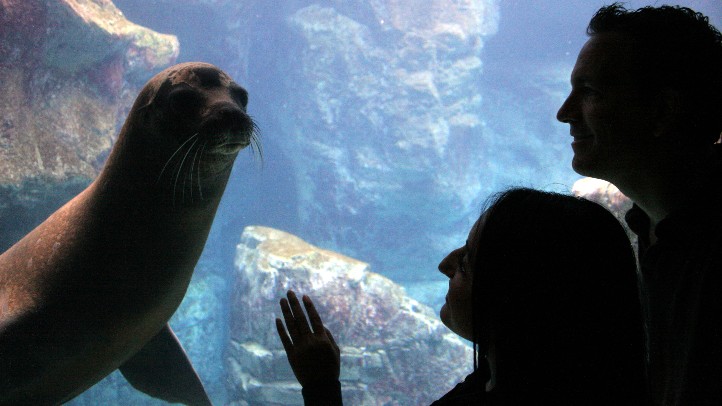 The fact that some of our high-brow-iest, most information-packed institutions are now going the nighttime entertainment route is not new. First Fridays at the Natural History Museum? Night Dives at the Aquarium of the Pacific? Tried-and-true go-outs.
But the fact that they are happening as often as they do supports the idea that grown-ups sometimes like a bit of brainy fun with their beverages and hobnobbing. And when they start tying into holidays, with theme nights? It's more than a trend, it is a full-on thing.
The Aquarium's next Night Dive will, in fact, have a Valentine's flavor. It's happening Friday, Feb. 10, it is 18+, there will be DJs and food trucks and fancy cocktails. Good and good and good. Oh, but here's the best part, in our opinion: How the "elusive" Humboldt squid hooks up will be a main topic of the night. Can we say "hooks up" here? They're basically trying to find and keep a mate.
Oh, squid courtship will be parsed, too. Sign. Us. Up.
Cost is $14.95, but drinks and eats are priced separately. The aquarium will be open for wandering, and figure that standing before those lowlit tanks with your honey has to be kind of romantic.
We'll also note here that the AotP is open on Valentine's Day evening, too, for a special family-nice holiday event. You can just stroll the place or you can reserve a spot for the special dinner. Either way, call it an unusual, brainy way to spend Valentine's. We can all high-five a fin to that.
Follow NBCLA for the latest LA news, events and entertainment: Twitter: @NBCLA // Facebook: NBCLA
Copyright FREEL - NBC Local Media